Amita Sudhir, MD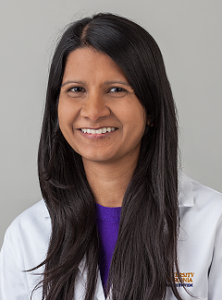 Associate Professor of Emergency Medicine
Residency Program Director, Department of Emergency Medicine
P.O. Box 800699
Charlottesville, VA 22908-0699
Phone: (434) 924-8485
Fax: (434) 924-2877
E-mail:  as2cd@virginia.edu
Education
Fellowship, Medical Education, Emergency Medicine, University of Virginia (2008)
Residency, Emergency Medicine, University of Virginia (2007)
M.D. University of Virginia School of Medicine (2003)
Swarthmore College (1999)
---
Clinical and Research Interests
Procedural competency
Technology in education, "flipping the classroom"
---
Books and/or Chapters
Invited Chapters:
Sudhir, A, Perina D, Mechanical Low Back Pain, Rosen's Emergency Medicine Concepts and Clinical Practice, Marx J, Hockberger R, Walls R, Ed, 9th ed. Elsevier, Philadelphia, PA, 2018, p 569-576
Selected Publication
Sudhir A, Mor N. A primary care alternative to a hospital-based approach to COVID-19 in India. J Glob Health. 2020;10:020346.
Moak JH, Larese SR, Riordan JP, Sudhir A, Yan G. Training in transvaginal sonography using pelvic ultrasound simulators versus live models: a randomized controlled trial. Academic Medicine 89(7), 2014.
Althoff SO, Sudhir A, Woods WA. A Study of the Surface Characteristics of Homemade Ultrasound Phantoms. Critical Ultrasound Journal 2(2):53-57, 2010.