Matthew J. Trowbridge, MD, MPH
Matthew J. Trowbridge, MD, MPH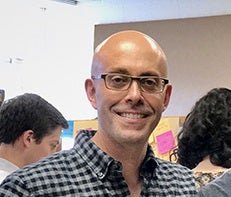 Associate Professor of Emergency Medicine and Public Health
Research Faculty, Department of Emergency Medicine
P.O. Box 800699
Charlottesville, VA 22908-0699
Phone: (434) 924-8488
Fax: (434) 924-2877
E-mail: mtrowbridge@virginia.edu 
Education
Residency, Preventive Medicine, Emory University School of Medicine (2010)
Fellowship, Injury Prevention & Trauma Research, University of Michigan (2007)
Fellowship, General Pediatrics, Tufts-New England Medical Center (2004)
Residency, General Pediatrics, Tufts University School of Medicine (2003)
M.P.H., Rollins School of Public Health, Emory University (2000)
M.D., Emory University School of Medicine (2000)
B.A., English, Tufts University (1994)
Research Interests
Preventive Medicine – Impact of the built environment (architecture, urban design, and transportation planning) on individual (clinical) and population-level health outcomes.
Medical Education – Use of human-centered design / design thinking to teach complex problem solving, systems-thinking, and inter-disciplinary collaboration within undergraduate medical education.
Current Activities
University of Virginia Medical Design Program

Co-Director, Lead Instructor – One-year design thinking / human-centered elective for medical students at the University of Virginia School of Medicine.   Project website:  http://uvamedical.design

Green Building & Public Health Innovation Partnership

Principal Investigator – Applied research partnership between the University of Virginia School of Medicine (UVA) and the U.S. Green Building Council (USGBC) funded by the Robert Wood Johnson Foundation. This partnership is focused on applying the market transformation tools and principles used within the green building industry to improve health outcomes by influencing the design, operation, and financing of the built environment at a national and global scale.  Project website: http://www.greenhealthpartnership.org
Publications
Trowbridge M, Chen D, Gregor A. Teaching design thinking to medical students. Med Educ. 2018;52(11):1199–1200. doi:10.1111/medu.13699
Brittin J, Frerichs L, Sirard J, Wells N, Myers B, Garcia J, Sorensen D, Trowbridge M, Huang T. Impacts of Active School Design on School-Time Sedentary Behavior and Physical Activity: A Pilot Natural Experiment. PLOS One. December 17, 2017.
Niccum B, Sarker A, Wolf S, Trowbridge M. Innovation and Entrepreneurship Programs in US Medical Education: A Landscape Review and Thematic Analysis. Medical Education Online. 2017: 22(1)
Trowbridge MJ, Worden K, Pyke C. Using Green Building As A Model For Making Health Promotion Standard In The Built Environment.  Health Affairs. 2016: 35(11) pp. 2062-67.
Frerichs L*, Intolubbe-Chmil L, Brittin J, Titelbaum K, Trowbridge M, Huang T. Children's Discourse of Like, Healthy, and Unhealthy Foods. Journal of Academy of Nutrition and Dietetics. 2016: 116(8) pp. 1232-1331.