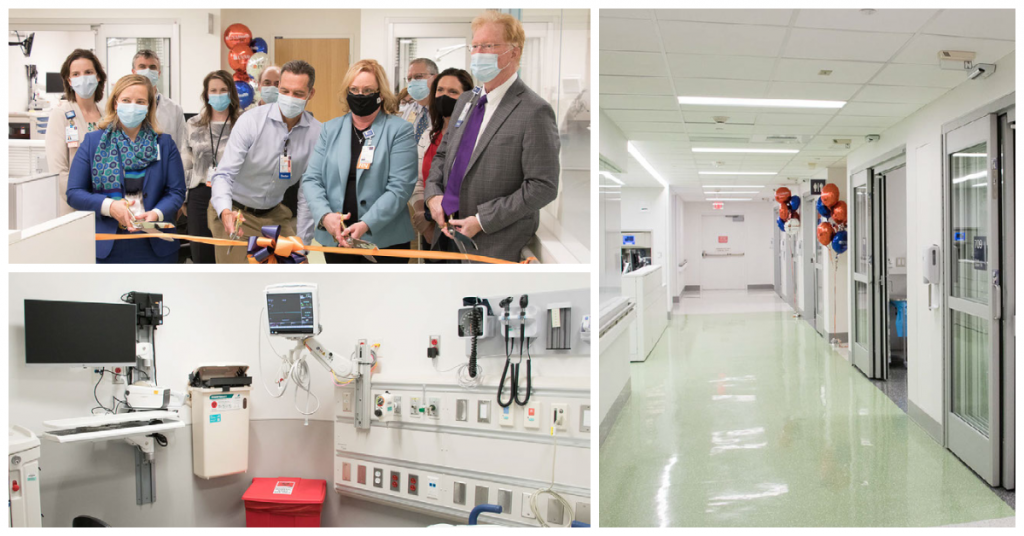 UVA Health Emergency Department recently celebrated the opening of a new expansion that increases the department's capacity by ten private rooms. This expansion provides the additional space needed for optimizing care for patients who need further diagnostic testing, lab work, or intervention.
Many years ago, EMCERT funded the first ultrasound and original video scopes for the ED, setting the precedent of quality, bedside imaging for all UVA Health Emergency Department patients. Following the standards of excellence established by Board support, the new expansion has a designated ultrasound and glideslope. With the new space and equipment, the ED team can continue to provide quality care for their patients in an improved environment dedicated to efficient care and treatment.
View this announcement on EMCERT's Facebook and LinkedIn pages.
Shown in photo collage, clockwise from upper left: Hospital and ED leadership cutting ribbon at the opening ceremony (L-R: Wendy Horton, PharmD, MBA; Dr. John Riordan; Cathy Phillips, MBA, MSN, RN; and Dr. Robert O'Connor); a hallway; and a patient room in the expansion.