Medical Scribe Program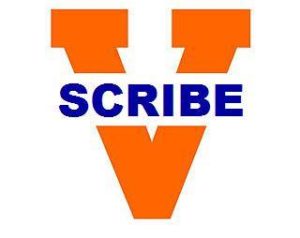 In June 2007, Dr. Scott Syverud, Professor of Emergency Medicine, initiated the process to establish a Medical Scribe program within the Department of Emergency Medicine.  Through collaborating efforts with, then third year medical student, Courtney Terry, and with guidance from Dr. Brian Clare, the program initiated with training five scribes; Ben Curtis, Kristen Gruenther, Era Kryzhanovskaya, Sean Meredith, and Andrew Li.  The original trainers, Priscilla Cha and Drew Clare, were recruited from outside hospitals to pour the foundation for the program today.
Medical scribes are hired as hourly employees through the University's student employment options and temp services through the University HR system.  Additionally, opportunities are available to be employed through full-time benefited positions through the University and through the University Physicians Group.  The full-time positions support the Emergency Medicine Research Office, Emergency Department, and other clinics and divisions across UVA Health.
Students are extensively trained in both the classroom and the clinical environment in order to document history, physical exam, assessments, procedure notes, and other results and dictations provided by the clinician at the time of service.  In addition, scribes track laboratory and radiology results and ensure the completion and signature of charts.  Medical scribes provide services and support to the clinician that increase the provider's availability to the patients and community as well as improving timely process of accurate and complete medical charts.  The program provides the opportunity for students to gain significant clinical knowledge and experience while contributing to the patient care.  Through close interaction with the physicians, scribes gain great exposure to patient care and medical practice procedures.
We look for students with strong academic records and a willingness to commit to a minimum of 2 years, inclusive of training, from undergraduates.  Commitment exceptions can occur for late third year students and higher.  While the time commitment is flexible around academic schedules and requirements, we do require our part-time undergraduate scribes to be committed to working 12-20 hours during the academic year and 30-40 hours during their first summer after being hired.
Our Spring applications are typically open in January with training from February or March and concluding in May.  The Fall application cycle begins in August and concludes typically before the winter break. The application is accessible on the University student employment site, UVA Handshake as well as linked through the UVA scribe Facebook page. UPG positions are available as well (search UVA HR Job Openings).
For further inquiries please view up-to-date information on our Facebook page and feel free to email the current Head Scribes at uvascribe@gmail.com.