Leadership and Contact Information
Gregory Hong, MD, PhD (Associate Professor of Medicine)
Program Director, Endocrinology and Metabolism Fellowship Training Program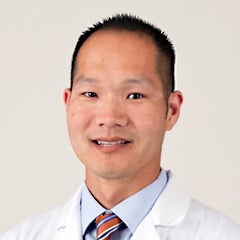 Dr. Hong completed undergraduate studies at the University of California San Diego and then joined the Medical Scientist Training Program at the University of North Carolina, Chapel Hill, where he pursued graduate studies examining the role of Epstein-Barr virus in driving tumorigenesis of lymphoid cells. Upon completion of his medical degree, he then came to the University of Virginia where he completed residency training in Internal Medicine followed by an Endocrinology & Metabolism fellowship. He joined the Division of Endocrinology as an Assistant Professor in 2013 and was promoted to Associate Professor in 2020. His primary clinical interest is pituitary disease, and he is a member of UVA's nationally recognized Multidisciplinary Pituitary Tumor Program. He is the recipient of the Department of Medicine's Excellence in Clinical Care award. In addition to his work in the Pituitary Tumor Program, Dr. Hong has demonstrated an outstanding commitment to trainee education. He has been involved with the creation of numerous educational materials at both the local and national level while spending a significant amount of time precepting medical student, resident, and fellow trainees in various settings. He received the Department of Medicine Inpatient Attending of the Year award in 2017, followed by the Department of Medicine Excellence in Teaching award in 2018. He was subsequently inducted into the Academy of Distinguished Educators in 2019.
Dr. Hong has been heavily involved in fellow education since joining the Division, and he formally assumed the role of Associate Program Director in 2019. He assumed the position of Program Director in July 2020.
Email: gkh7z@virginia.edu
---
Christopher R. McCartney, MD (Professor of Medicine)
Associate Program Director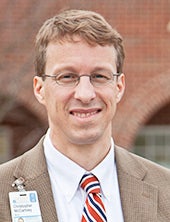 Dr. McCartney went to medical school and completed Internal Medicine residency training in his home state of Mississippi. He moved to Charlottesville in 1999 to enter the Endocrinology and Metabolism Fellowship Program, which he completed in 2002. While he had planned to return to the University of Mississippi as a clinician-educator, he decided to stay in Charlottesville to pursue clinical research. Given a passion for teaching/mentorship, he increasingly became involved with fellow education (in addition to medical student and resident teaching). Dr. McCartney has received Mulholland Awards for Teaching Excellence in Foundations of Medicine (2010, 2012); Department of Medicine Outstanding Teaching Awards (2011, 2012); and the School of Medicine Dean's Excellence in Teaching Award (2011). He was inducted into the Dean's Academy of Distinguished Educators at the University of Virginia in 2011. He has been a member of Council for the Association of Program Directors in Endocrinology and Metabolism (APDEM) since 2014; he has served as Secretary-Treasurer (2016-2017), President-Elect (2017-2018), and President (2018-2020). He is also the Chair of the Endocrine Society's Clinical Guideline Committee (2018-2021).
Dr. McCartney was appointed Associate Program Director in 2010 and Program Director in 2011. In July 2020, he moved to the role of Associate Program Director where he continues to work closely with the new Program Director, Dr. Hong.
Email: mccartney@virginia.edu
---
Javanov Barksdale
Fellowship Program Coordinator
Contact information:
Box 801406, UVAHS, Charlottesville, VA 22908
Phone: 434.243.8482
Email: jcb8qt@virginia.edu
---
Alan C. Dalkin, MD (Professor of Medicine)
Prior Program Director
Dr. Dalkin received his training at the University of Michigan (undergraduate, medical school, Endocrinology and Metabolism Fellowship) and University of Chicago (Internal Medicine Residency). He's been at the University of Virginia since 1991, and has received countless teaching accolades. He served as Endocrinology Fellowship Program Director (1997–2011) and Medicine Residency Associate Program Director (2003–2010). He has also played key roles in the Association of Program Directors in Endocrinology and Metabolism (Council Member 2000–2002 and 2005–2008; Treasurer 2005–2008; President 2007–2009); and he was recent Chair (2011-2014) of the Endocrine Society's Self Assessment Committee, which writes the ESAP In Training Exam (ITE) used by all programs in the U.S. Dr. Dalkin is a member of the ACGME's Residency Review Committee (RRC) for Internal Medicine, and he recently served on Endocrine Society Council (2015-2018).
Dr. Dalkin continues to be a staunch supporter of (and valuable resource for) the Fellowship Training Program.