Research Services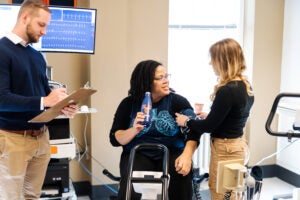 Steps to get started
Investigators with new protocols should contact the research team at lms5a@uvahealth.org to set up a consult. The research team will need a copy of your IRB approval and consent if you have completed these steps, or your proposal if not and will discuss your needs and time line. We are here to help you each step of the way, from protocol design to data collection and management.
For information regarding the EPCL, contact Lisa Farr
The department can provide data if your studies involve:
Exercise testing (CPET/VO2peak)
Body composition (Bod Pod, circumferences)
Measures of functional fitness (Six-minute walk test)
Exercise training
Resting metabolism
Weight loss
Vascular health
Investigators are using the EPCL in studies on:
Heart failure
Myocardial infarction
Cancer
Metabolic syndrome
Peripheral arterial disease
Type 1 and 2 diabetes
Morbid obesity
Appetite hormones
Vascular health in post-menopausal women
Services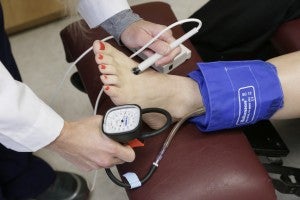 Ankle brachial index is a quick test that provides information about leg circulation. This test uses blood pressures measurements on the arms and legs to compute a ratio and can be performed at rest and after an exercise stress test or any activity that causes the patient to develop claudication symptoms.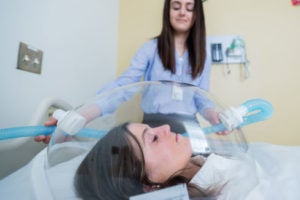 Measurement of metabolism in a supine, fasted state to determine caloric requirements and substrate utilization.
Percentage body fat
Fat mass
Fat-free mass
Circumferences (waist, abdomen, and hip)
Diameters

Supervised exercise training on bike or treadmill with or without EKG or metabolic monitoring
Home exercise oversight
4 or 20 meter walking
6 minute walk
stair climbing ability
timed sit-to-stand
flexibility
other functional activities by investigator request

VO2 max, or maximal oxygen consumption, refers to the maximum amount of oxygen that an individual can utilize during intense or maximal exercise. This measurement is generally considered the gold standard of measuring cardiovascular fitness and aerobic endurance and has been. This test is typically used in research studies before and after an exercise intervention, new medication, new device therapy, or to track disease progression
Bike or treadmill CPET/VO2peak
 Heart rate, oxygen saturation, and blood pressure monitoring with exercise and in recovery
Serum lactate and glucose measurements available
Ultrasound measurement of flow mediated dilation of the brachial artery in response to a research stimulus.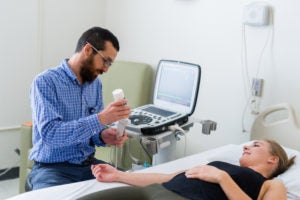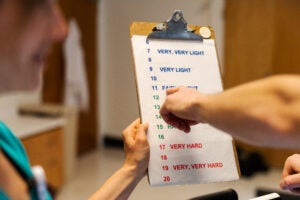 Physical activity questionnaires can be used to estimate total caloric expenditure and intensity of activity over a given period of time.
Assistance with grant submission and protocol development. This service can also be used for subject recruitment and follow up, home exercise/activity over-sight, and date entry.