Committee on Women in Medicine and Science (COWIMS)
News and Announcements
The Committee on Women in Medicine and Science is thrilled to offer the first year of a Leadership Development Travel Award, in the amount of $1,000, for to up to four women faculty who are accepted to participate in the AAMC's Mid-Career Women Faculty Leadership Development Seminar.
To apply for this award, please email a PDF copy of your AAMC Mid-Career Women Faculty Leadership Development Seminar application at the time of your seminar application to Ashley Ayers at ala5t@virginia.edu.
If you are selected to the Seminar and selected to receive the Leadership Development Travel Award, COWIMS requests that you prepare a summary describing what you learned while participating in the Seminar, and present it to the SOM community. COWIMS will send additional details, upon notifying you of your receipt of this award.
If you have any questions, please contact Dr. Kate McManus, Chair of the Committee on Women in Medicine and Science. Please see the note below for details about the seminar and eligibility (women faculty with a minimum of two years of experience as an Associate Professor (promoted by December 5, 2021) and a minimum of eight years' experience in academic medicine and science (hired by December 5, 2015).
COWIMS feature
Upcoming Events
COWIMS is hosting a presentation and discussion with Dr. JoAnn Pinkerton!
Monday, October 23, 2023
5:30pm – 7:00pm
2ABC, Pinn Hall Conference Center
Let's Talk about Management of Menopause
Following this presentation, participants will be able to:
• Describe risks and benefits of menopausal hormone therapy
• Discuss the best candidates for use of menopausal hormone therapy compared to non-hormonal options
• Consider when to use only local vaginal therapy
• List concerns about use of extended use of hormone therapy
Dr. Kate McManus selected as Chair of COWIMS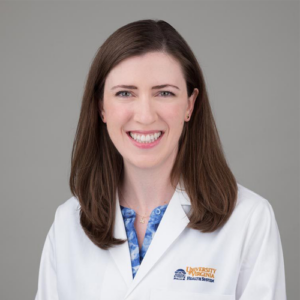 "I have a longstanding passion and interest in helping to achieve gender equity in medicine and science and in empowering women in these fields. Women in medicine and science who are empowered, encouraged, and valued improves the retention of key talent who are essential to making UVA a Great and Good university. I look forward to the opportunity to enthusiastically contribute my passion and expertise to drive significant progress towards achieving the committee's strategic goals." ~Kate McManus, MD
Dr. McManus joined the University of Virginia Health System and School of Medicine (SOM) in 2010, completed her Internal Medicine residency, and served as a chief resident year and Infectious Diseases fellowship at UVA. She joined the Department of Medicine (DOM) faculty as an inaugural iTHRIV Faculty Scholar in July 2017. Dr. McManus has been an active member of the SOM DOM Women in Internal Medicine Network (WIMN) group since its inception in 2015 and has served as a co-chair of the group since 2019. We are grateful for the leadership experience on behalf of women faculty that Dr. McManus brings to this position and know her experience as a faculty member active in all mission areas will greatly benefit our faculty members.
The UVA Committee on Women in Medicine & Science (COWIMS) promotes and enables the representation, development, and contributions of all individuals.
Be Informed!
For regular updates and information:
Join a Sub-Committee!
To join a subcommittee, fill out this survey.
Advocacy/Awards
Professional Development
Data Analytics
Programming/Events
Media
2023 Fall Reception
2022 Fall Reception