Fellowship Education
Gastroenterology & Hepatology Training Programs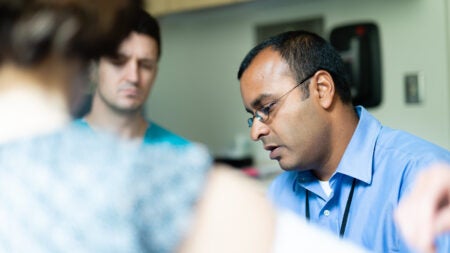 The Division of Gastroenterology and Hepatology Fellowship Program at the University of Virginia Health System is an exceptional opportunity to train with world-renowned clinicians and researchers, using the latest in advanced diagnostic and procedural equipment. If you are accepted to our program you will interact with leaders in academic and clinical gastroenterology and hepatology.
Following an internal ranking of qualified candidates, we use the Specialties Matching Service (SMS) offered through the National Residency Matching Program (NRMP) to match candidates to our fellowship class. We look forward to greeting our new fellows in July.
GI fellowship applicants interested in laboratory research should email Neeral Shah, MD, Fellowship Director, to discuss future opportunities.
Message from the Fellowship Program Director
Thank you for visiting our web page and I hope that this offers you some insight into our program. The mission of our program is to create an environment to train well-rounded, high-quality gastrointestinal physicians. Our program provides a complete education that includes inpatient training, outpatient training, endoscopic training, research, and medical education opportunities. Fellows that join our program enter the UVA GI family where we pride ourselves on the camaraderie within the fellowship and with the GI faculty.
We are proud of our rich history and are a nationally ranked GI division with a wide depth and breadth of experience in all aspects of gastroenterology and hepatology. Our fellows work closely on the inpatient consult service with either a luminal GI attending or hepatology attending. Having one of the largest liver transplant centers in the Eastern US allows our fellows the opportunity to take care of cirrhosis patients and many of the medical issues that accompany these patients. The fellows rotate in outpatient clinics covering all subspecialties of GI (motility, pancreas, biliary, esophageal, hepatology, transplant, etc.) and this allows them to explore these fields starting in their first year of fellowship.
Some unique aspects of our program that set us apart from other institutions are built in to ensure fellow wellness and avoid burnout. The Q12 call at a single facility offers fellows the opportunity to learn, complete research, and attend conferences about GI diseases while providing the best care for patients without being overly fatigued. Further, the continuity clinic for the fellows has the support of two nurse coordinators. These nurses are exclusively dedicated to helping fellows with nursing issues, scheduling, and communicating with patients to help the coordination of care outside of the clinic session. This allows our fellows to concentrate on learning during their rotations, all while our patients are getting the best care possible and allowing easy communication with their care team. Fellows also rotate with medical students and residents on the consult rotation that allows the opportunity to be involved in the medical education and usually results in joint research projects which are usually presented at national conferences. The program requires all fellows to pursue some type of scholarly activity during their fellowship and these endeavors are strongly supported by the division. All fellows present these projects at GI grand rounds during their tenure in the fellowship. Some fellows have also taken advantage of the opportunity to help with teaching labs in the medical school GI course. The GI service has consistently been rated the top educational and patient care service by the UVA house staff and UVA medical students.
We have a dedicated outpatient endoscopy facility that augments the training of the fellows in our already strong endoscopic training blocks. Fellows graduate with comfort in all aspects of routine endoscopy and therapeutic procedures. ERCP / EUS rotations are scheduled for each fellow early in their second year of training. This scheduling often helps fellows in their decision about future career plans to pursue further interventional endoscopic training and to be well versed when interviewing at programs for this pathway. With the active liver transplant program, hepatology training is thorough and fellows are usually very comfortable with the care of end-stage liver disease patients.
The faculty prides itself on being approachable for all fellows and supportive of any endeavor that will advance the fellow's career goals. Fellows are paired with an initial mentor during their arrival at the University of Virginia and then transitioned to long-term mentors as their careers paths are determined. We hope that you will consider our program and visit us in Charlottesville, VA., as we are dedicated to training those doctors that will be the future face of health care. Our curriculum delivers systems-based quality education with training in quality improvement projects. We have a comprehensive conference schedule that covers, but is not limited to, pathology, pathophysiology, and clinical care. We often host visiting speakers who are world-renowned in the field of GI to provide our division with outside points of view and the most up-to-date learning opportunities.   The faculty and staff believe the supportive environment at UVA allows fellows to achieve their fullest potential.
If you have any questions about our program, please let me know.
Thank you again, Neeral Shah, MD