Interventional GI
What is Interventional GI?
UVA Interventional Endoscopy in the Division of Gastroenterology and Hepatology is staffed by physicians Bryan Sauer, Vanessa Shami, Daniel Strand, Ross Buerlein, Alexander Podboy, and Andrew Wang.  Together, they offer experienced consultative care for patients with luminal, pancreaticobiliary, and oncologic disorders of the gastrointestinal (GI) tract.
UVA Interventional Endoscopy utilizes innovative and specialized endoscopic procedures to achieve its goal of providing advanced patient care of the highest quality. Patients are referred to us from the mid-Atlantic region and from across the country for some of these advanced procedures.
UVA Interventional Endoscopy, in collaboration with other faculty members in the Division of Gastroenterology and Hepatology, offers the following:
Diagnostic Endoscopy
Diagnostic endoscopies are performed to visualize the GI tract to diagnose abnormal conditions. If abnormal conditions are discovered, they may be treated medically, surgically, or endoscopically.
In a diagnostic GI endoscopy, physicians use endoscopes — sophisticated instruments with a thin, flexible tube equipped with a tiny camera and light — to see inside the GI tract. The endoscope is inserted through the mouth or rectum. When abnormalities such as polyps, ulcers, or strictures are found, a biopsy may be performed to collect a tissue sample. The results will then guide medical treatment. When precancerous polyps are found, the diagnostic endoscopy may then be followed by a therapeutic endoscopy, during which the polyp is removed to reduce the risk of cancer developing in the digestive tract in the future.
Interventional Endoscopy
In addition to diagnostic procedures, UVA Interventional Endoscopy offers advanced endoscopic procedures, such as:
Endoscopic ultrasound (EUS) with fine-needle aspiration (FNA)
Endoscopic retrograde cholangiopancreatography (ERCP)
Advanced polypectomy, including

Endoscopic mucosal resection (EMR)
Endoscopic submucosal dissection (ESD).
We also offer an array of ablative endoscopic procedures, including:
Radiofrequency ablation (RFA) and photodynamic therapy (PDT) for Barrett's esophagus and cancers of the bile ducts or pancreas
Laser lithotripsy for difficult-to-remove stones in the bile duct or pancreas duct.
Finally, for patients with incurable cancer, we offer palliative endoluminal stenting of the esophagus, duodenum, bile ducts, pancreatic duct, colon, and rectum, to help them achieve the best possible quality of life.
Information about our program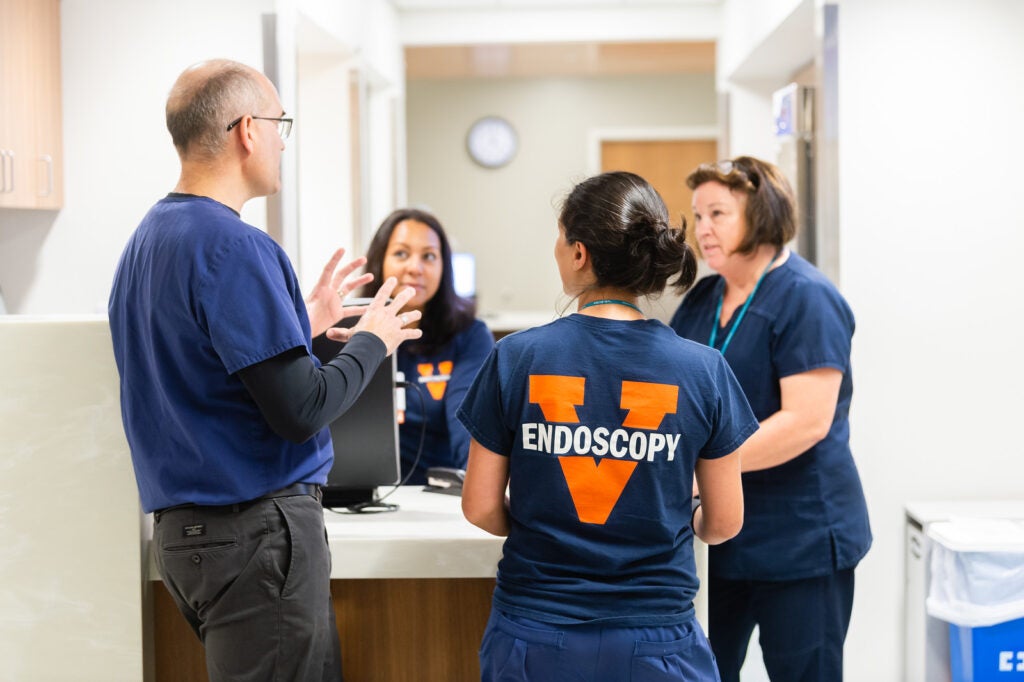 The University of Virginia (UVA) Advanced Endoscopy Fellowship program offers qualified applicants exposure to various interventional endoscopy techniques and outstanding clinical endoscopic and GI training. We routinely perform over 1,000 ERCP and 800 EUS procedures each year. We perform therapeutic ERCP, which includes choledochoscopy, laser lithotripsy, PDT, RFA, and enteroscopy-assisted ERCP. In addition to diagnostic EUS and EUS/FNA, we perform interventional EUS, which includes celiac plexus block/neurolysis, cystgastrostomy, cystduodenostomy, pancreatic necrosectomy, and EUS-guided ERCP. As an NPF Pancreatitis Center, we offer exposure to pancreatic function testing and ESWL. Lastly, we have particular interest and expertise in advanced optical imaging (NBI, chromoendoscopy, and confocal endomicroscopy), esophageal RFA and cryotherapy, conventional and underwater EMR, ESD, and POEM procedures.
Our Section of Interventional Endoscopy, which includes Drs. Vanessa Shami, Andrew Wang, Bryan Sauer, Daniel Strand, Ross Buerlein, and Alexander Podboy is nationally and internationally recognized for their clinical expertise and interest in endoscopic education.  Our program has a tradition of training outstanding advanced endoscopy fellows who have become leaders in clinical practice and academic medicine.
Requirements for Application
Standard ASGE Application Packet

ASGE Application
Post-Undergraduate Education
USMLE Scores (if necessary)
Certification of Completion of Residency

Before appointment in the advanced endoscopy fellowship, fellows should have completed a three-year ACGME-accredited gastroenterology fellowship
Fellows from non-ACGME-accredited programs must have completed at least three years of gastroenterology education before starting the fellowship

Personal Statement
Curriculum Vitae
3 Letters of Reference

Additional Requirements from the Program

U.S. citizenship or permanent residency (at the time of submitting this application)
Completed training in an ACGME-accredited internal medicine residency program
Enrolled in or completed training in an ACGME-accredited gastroenterology and hepatology fellowship program
Applicants who are GI fellows at the time of application must have board certification in Internal Medicine by the ABIM
Applicants who have completed GI fellowship training and have been in GI practice (for six months) must have board certification in Gastroenterology by the ABIM
Medical Directors
---
Medical Teams