Transplant Hepatology Fellowship
Program Overview
The University of Virginia's Transplant Hepatology Fellowship Training Program is a one-year program designed to prepare physicians for a successful career in academic general and transplant hepatology.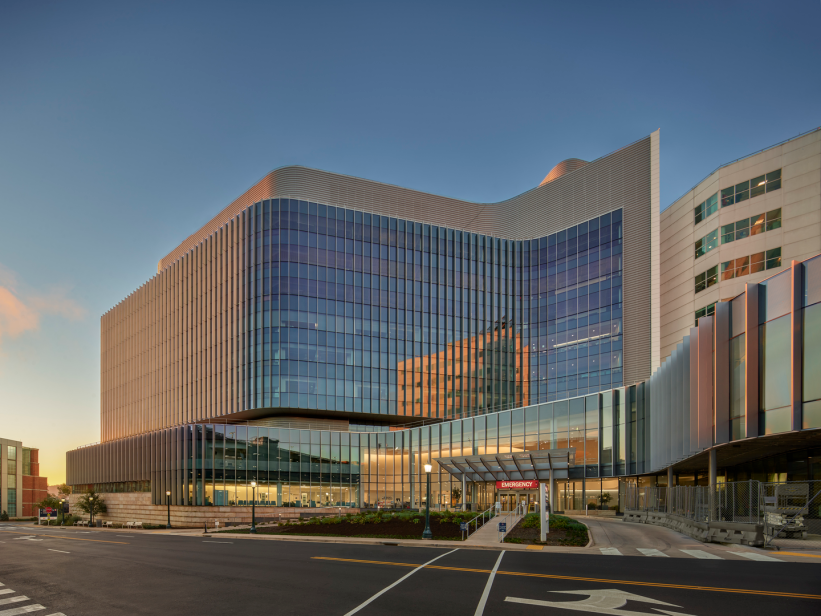 After completion of the fellowship, individuals will be eligible to take the ABIM Transplant Hepatology board exam and will meet the criteria to serve as a UNOS-certified primary liver transplant physician for an accredited liver transplant center in the U.S.  UVA has a multi-disciplinary, team approach to liver transplantation with close collaboration between transplant hepatology, transplant surgery services, anesthesia, and medical specialties. The transplant clinic space is shared by both services five days per week. Joint daily rounds occur on the inpatient transplant service with collaboration between hepatology and transplant surgery.
Transplant Hepatology Fellows have access to comprehensive training in transplant hepatology, advanced general hepatology, hepatology-focused endoscopy, transplant infectious diseases, hepatopathology, and interventional radiology, as well as mentoring in clinical research, advanced clinical skills, and education techniques.
The UVA Liver Transplant Program is a UNOS-accredited liver transplant program and was the first liver transplant program in Virginia. UVA draws most of its patients from the southeastern United States but also receives referrals from the greater mid-Atlantic region and New England, and far west as California. The program offers multi-organ transplantation as well as split, domino, and living donor liver transplantation. Transplant patients are evaluated in the clinic every weekday. UVA also has a pediatric liver transplant program integrated with the Liver Transplant Program performing deceased and living donor liver transplants. Adult hepatology trainees gain experience in pediatric liver disease management during joint pathology, radiology, and transplant selection conferences.
Supervision and mentorship are provided by an exceptional team of Transplant Hepatologists: Drs. Curtis Argo, Zachary Henry, Nicolas Intagliata, Stephen Caldwell, Neeral Shah, and Brian Wentworth.
Eligibility
The training year commences in July. Candidates must have completed an ACGME-accredited Internal Medicine residency and Gastroenterology and Hepatology fellowship. The UVA Transplant Hepatology Program attracts trainees who plan to pursue full-time Transplant Hepatology careers in academic medical centers.
Applications are completed online through the American Association for the Study of Liver Disease (AASLD). Applicants are not eligible for interviews unless the required AASLD documentation is provided. Interviews will be scheduled based on a review of completed applications and an internal ranking of competitive candidates. Candidates will be contacted by the program director/coordinator for an interview, once those dates have been determined. Typically interview days begin at 8 a.m. and are 4-5 hours in length, which allows the applicant to become fully acquainted with our HEP faculty and fellowship staff. Applicants are "matched" to our program via the AASLD.
For additional information see AASLD Match and How to Apply: Hepatology Training Pathways | AASLD
Clinical Activities
Our transplant hepatology fellow participates in various clinical activities during the training year, including rotation on the inpatient liver transplant service. The patients cared for on this service are typically new transplant recipients within the first year after a liver transplant. On the inpatient service, the transplant hepatology fellow works closely with the transplant surgeons, transplant hepatologists, transplant surgery fellow, and inpatient transplant surgery team. Throughout the year, the transplant hepatology fellow routinely rounds on inpatients in the morning with the transplant team and transplant hepatology attending physician and then transitions to an outpatient clinic or endoscopy for the remainder of the day. Outpatient clinics focus on caring for patients in all phases of the liver transplant process (pre-, peri-, and post-transplantation) with more limited exposure to advanced general hepatology patients with complicated cirrhosis care.
In addition to expected participation at our weekly hepatopathology review conference, the transplant fellow is encouraged to pursue elective experiences with interventional radiology, abdominal radiology, transplant infectious disease, transplant endocrinology, and transplant nephrology.  These experiences typically occur interspersed throughout the year and are arranged by the transplant hepatology fellow to gain broad exposure and address specific gaps in expertise and knowledge.
Clinical Research
Clinical research projects are an expectation for our transplant hepatology fellow. Balancing clinical and educational opportunities with research is important in developing an academic hepatology career. Generally, our fellow has 4-6 hours per week set aside for clinical research pursuits.
Nicolas Intagliata, MD, MPH
Associate Professor
Program Director
Transplant Hepatology Fellowship
Zachary Henry, MD, MS
Associate Professor, Assistant Program Director Transplant Hepatology Fellowship
Brittany Davis
GI/Hepatology and Transplant Hepatology Fellowship Coordinator
Program Faculty
Requirements
Completion of ACGME-accredited 3-year fellowship program in Gastroenterology and Hepatology

American Board of Internal Medicine (ABIM) Gastroenterology Board eligible or certified

Applicants must be U.S. citizens, permanent residents of the U.S., or have an Employment Authorization Document (EAD). This is not a J-1 Visa opportunity.
Application Process
UVA Fellowship Program – Utilizing the American Association for the Study of Liver Disease (AASLD) Match
The Division of Gastroenterology and Hepatology uses AASLD Match: American Association for the Study of Liver Disease to select interview candidates for the upcoming match. Interviews are held from March through April. Early application is strongly advised.
Material required for application through AASLD includes:
General Information
Post-Undergraduate Education
USMLE/COMLEX Scores (if necessary)
ECFMG (if necessary)
Visas (if necessary)
Completion of Residency/Fellowship Training
Prior to appointment in an ACGME-accredited fellowship, fellows should have completed a three-year ACGME-accredited gastroenterology fellowship
Personal Statement
Curriculum Vitae
3 Letters of Recommendation
Applicants to ACGME-accredited transplant hepatology fellowships must have a letter of recommendation from their gastroenterology fellowship program director
Conferences/Meetings
Living Donor Transplant Review Meeting (weekly – Wednesday, 11:30 AM-12:30 PM)
Post-Transplant Clinical Care Meeting (weekly – Wednesday, 12:30-1:30 PM)
Liver Pathology Conference (weekly – Wednesday, 1:30-2:15 PM)
Liver Transplant Selection Meeting (weekly – Wednesday, 3:00-4:30 PM)
GI/Hepatology Grand Rounds (weekly – Wednesday, 7:30-8:30 AM)
Hepatology Journal Club or Case Conference (monthly – Wednesday, 11:30 AM-12:30 PM)
Multidisciplinary Liver Tumor Management Conference (weekly – Friday, 3:30-5:00 PM)
Transplant Lecture Series (weekly – Friday, 8:00-9:00 AM)
Transplant Hepatology Fellows are also encouraged to attend the usual palette of educational events available to the GI/Hepatology fellows, including the pathophysiology conference, core curriculum lectures, and the GI/Hepatology journal club.
For more information regarding the Transplant Hepatology training program, please contact:
Nicolas Intagliata, MD
Program Director
Phone: 434-243-6400
Email: nmi4d@virginia.edu
Brittany Davis
Fellowship Coordinator
phone: 434-243-6400
email: bh5ns@virginia.edu
Division of Gastroenterology and Hepatology
University of Virginia Health System
P O Box 800708
Charlottesville, VA 22908