Program Description GI
About Our Program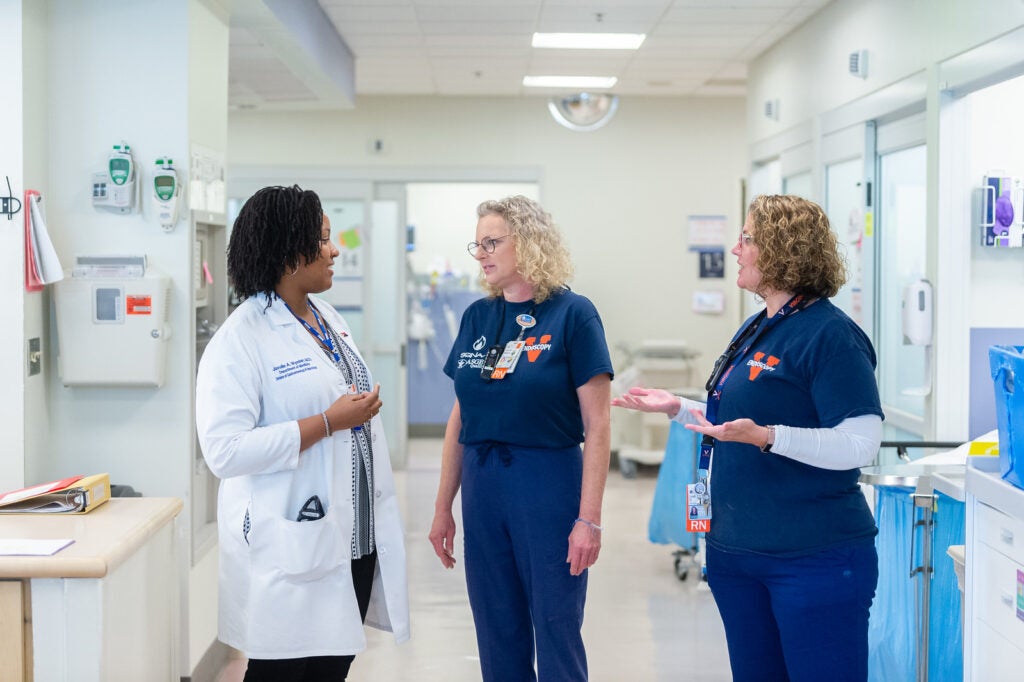 The Division of Gastroenterology and Hepatology operates within the structure of the University of Virginia Digestive Health Center. This Center fosters an interdisciplinary approach to patient care and research in the field of gastroenterology and hepatology. A special feature of our division is the depth of expertise in both basic and clinical areas as well as the commitment of our faculty to be mentors and preceptors for trainees. As a result, the spectrum of opportunities available is extremely broad. U.S. News and World Report have repeatedly selected the University of Virginia's Division of Gastroenterology and Hepatology as a top program in the nation since 1998. We are proud that our graduates are the academic and clinical leaders of the future, with one-third of our trainees choosing to pursue careers in academic medicine. Our graduates who choose community-based practices have become community leaders involved with teaching, and many hold faculty appointments at medical schools.
Clinical Training
All training in clinical gastroenterology is done at the University of Virginia, a tertiary care center serving a population of 5-10 million people, and designed to produce consultant gastroenterologists who have mastered the cognitive aspects and technical skills of all gastroenterological diagnostic techniques, as well as hepatology and nutrition. In addition to their clinical rotations, Fellows participate in weekly gastroenterology clinics and in regularly scheduled conferences. Basic science/pathophysiology of GI disease, research-in-progress, hepatology, endoscopy conferences, and GI Grand Rounds meet weekly, while Journal Club, radiology, and pathology conferences, occur monthly.
Major components of our training program include:
The Digestive Health Inpatient Service
Inpatient Service has the primary responsibility for providing clinical care and consultation to patients with gastrointestinal problems in the 750-bed University Hospital, a state-of-the-art inpatient facility that opened in 1989. Fellows on the service will receive over 100 consult requests per month as well as supervise the daily care of patients with gastrointestinal and/or liver maladies. The inpatient Division of Gastroenterology and Hepatology encompasses two patient care units and facilitates the interaction of medical and surgical teams caring for patients with GI and liver disorders. The inpatient team is staffed by four teams of excellent Internal Medicine house staff, a luminal and hepatology attending, as well as three GI fellows. The development of this dedicated inpatient unit has resulted in the ability to provide outstanding care in a cost-effective environment.
The Digestive Health Endoscopic Unit
The DHC Endoscopic Unit is an outstanding facility. The trainee will develop expertise in the many procedures available in our specialty. These experiences include upper GI endoscopy, enteroscopy, and colonoscopy, injection and cautery treatment of GI bleeding, esophageal dilation techniques, laser use, endoscopic ultrasound, and liver biopsy. Our unit performs over 12,000 procedures per year. In addition, the biliary Endoscopy Service offers advanced biliary and pancreatic imaging, stenting, and stone removal, as well as biliary manometry and papillotomy. Our facilities include two dedicated rooms for Interventional Endoscopy outfitted for fluoroscopy/ERCP. Training in the latter service is provided for selected Fellows in the third year who wish to gain this expertise.
The Non-Endoscopic Diagnostic Testing and Function Laboratory
This laboratory provides an opportunity for innovative investigation in gastrointestinal motility studies (esophagus, stomach, small bowel, colon, and rectosigmoid) with emphasis on intubation techniques, electrophysiology, and radionuclide studies. Other diagnostic procedures include breath tests for malabsorption as well as for diagnosis of bacterial overgrowth and Helicobacter pylori infection, secretin-stimulated gastrin, gastric acid secretory measurements, and esophageal pH and provocative stimulation tests for chest pain.
Digestive Health Ambulatory Endoscopy Center
In 2017, the Digestive Health Center added an additional free-standing ambulatory endoscopy center which is staffed only by faculty with academic appointments at UVA. This center is located on Grounds adjacent to the current fellow and staff parking lot. Five rooms for ambulatory procedures allow for more rapid scheduling of outpatient procedures and new motility rooms with upgraded equipment will add to the motility training in our Division. Patients scheduled in this endoscopy center are of lower risk, and procedures focus on preventative care and screening.
Experience in Outpatient Consultation
Experience in outpatient consultation is offered by benefiting from our 15,000 patient interactions each year. This is achieved both under faculty supervision, which allows the Fellow to see patients from each faculty member's clinic and emphasizes different gastrointestinal disorders, as well as in long-term, fellows' continuity clinics conducted by the individual Fellows.
Hepatology Experience
Hepatology experience is gained through rotation on the Digestive Health Hepatology Service with inpatient and consultative care on Medical and Surgical services as well as in outpatient clinics. There is close collaboration with an active Liver Transplant program, which performs over 75 transplants per year. A wide variety of acute and chronic liver diseases are encountered, and there is ample opportunity for involvement in patient management, including anti-viral therapy, endoscopic management, invasive radiologic intervention (such as TIPS), and close interaction with the Biliary Endoscopy Service. In addition, liver biopsy and large volume paracentesis are routinely performed. Excellent pathology expertise is available for review of liver and intestinal specimens. Fourth-year training is also available in Transplant Hepatology.
The Digestive Health Nutrition Support Team
The Nutrition Support Team is organized through the GI Division. Consultation is offered throughout the hospital on patients who require nutritional supplementation orally, peripherally, or centrally. Education of house staff and faculty in the principles of nutrition is an important part of this service, as is a consultation on patients in the medical ICU. GI Fellows see new consults, including patients requiring percutaneous endoscopic gastrostomy, and are full members of the rounding team.
There are very strong collaborative endeavors with other divisions in the Department of Medicine, particularly within Geographic Medicine. The University has an outstanding Department of Surgery with extensive clinical and research links. The General Clinical Research Center and The Bierne Carter Center For Immunology represent excellent sites for clinical and basic research. Interdepartmental research collaborations extending to the Departments of Microbiology, Pharmacology, and Biomedical Engineering are also numerous.
Other Rotations
Radiology rotation at UVA with special emphasis in ultrasound, CT, and MRI scans of the abdomen as well as the established barium procedures. The Interventional Radiology Section is very strong, and its procedures include transjugular intrahepatic portal-systemic shunt (or TIPS).
Pediatric Gastroenterology at UVA. Experience includes outpatient clinic, inpatient consultation, and diagnostic procedures for a variety of disorders presenting in children from a few weeks to 16 years of age.
Stipend and Benefits
The level of stipend for trainees supported by the Division of Gastroenterology and Hepatology depends on the completed number of years of relevant postgraduate training. Some slight variations in stipend may be caused by different sources of funding: Salary and Benefits.