Hepatology Care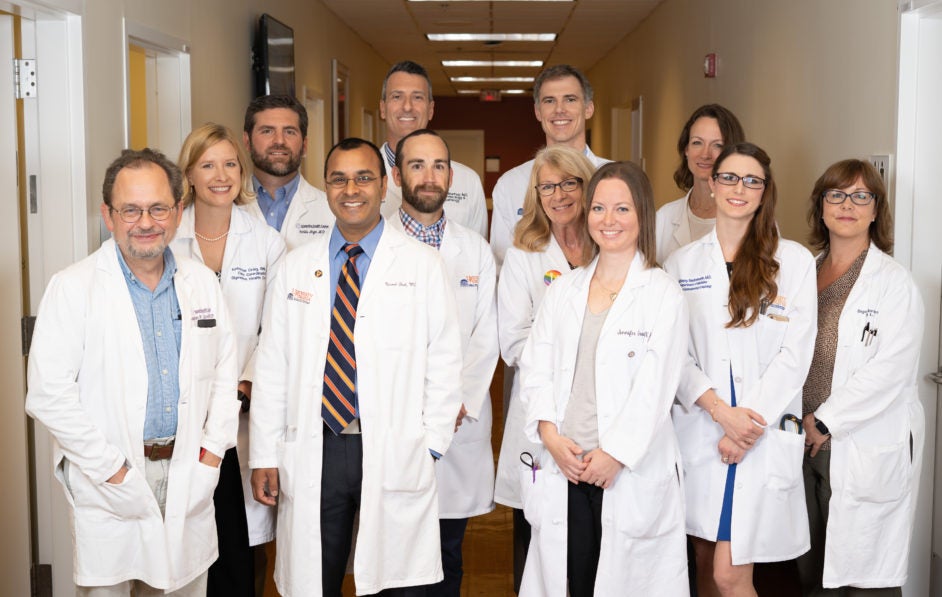 Hepatology Care at the UVA Digestive Health Center offers a world-class team of medical, surgical, and pediatric liver disease specialists offering cutting-edge therapies in the treatment of advanced liver disease and liver transplantation.
Clinic team members strive to optimize the quality of life for patients by providing comprehensive multidisciplinary care from the time of referral. The Hepatology Clinic provides a complete range of innovative diagnostic and treatment services, including the following:
Coagulation in Liver Disease
The UVA Hepatology team has developed a significant expertise in this aspect of hepatology. Under the direction of Dr. Stephen Caldwell, a number of clinical research efforts are underway in this field. These are headed up by Patrick Northup, MD, Neeral Shah, MD, and Nick Intagliata, MD, and include a University-based and international collaborative team. In addition, UVA is a co-organizer of the annual International Symposium on Coagulation in Liver Disease (http://www.coagulationinliverdisease.org/).
Fatty Liver Disease
Our physicians are leaders in the clinical care of patients with fatty liver disease, including nonalcoholic steatohepatitis (NASH). In addition, studies headed up by Drs. Curtis Argo, and Stephen Caldwell are investigating newer diagnostic tests and therapies of this potentially progressive form of liver disease.
Viral Hepatitis (Hepatitis C and Hepatitis B)
Specialists in Hepatology and Infectious Disease have partnered to offer a variety of new therapies tailored to the individual patient. Strong nursing support and the availability of advanced research studies with new drug combinations enhance the viral hepatitis program.

Liver Cancer and Liver Lesions
A multidisciplinary team provides a strong clinical foundation for all forms of therapy for liver cancer and liver lesions — from surgical to radiological to medicinal. Clinical trials are underway to explore newer potential treatment options. Focused Hepatology clinics under Patrick Northup, MD, and Stephen Caldwell, MD, often provide the starting point for patients undergoing evaluation and treatment for liver cancer.
Living Donor Transplantation
UVA is one of a small number sites in the U.S. to offer this novel and life-saving form of liver transplantion. Our transplant team includes hepatologists, surgeons, pathologists, radiologists, nephrologists, pulmonologists and specialty nurse coordinators. Patients are managed by a multidisciplinary team headed up by Dr. Patrick Northup, the Medical Director of Liver Transplantation, Dr. Dan Maluf, the Surgical Director of the Living Donor Program, and Dr. Shawn Pelletier, the Surgical Director of Liver Transplantation.
Innovative Use of Immunosuppressants
Instrumental in developing advanced protocols resulting in better patient outcomes in controlling the response to hepatitis.
Hepatology Team
Physicians
Stephen H. Caldwell, MD
Curtis Argo, MD, MS
Patrick Northup, MD
Neeral Shah, MD
Nicolas Intagliata, MD
Zachary Henry, MD
Advanced Practice Providers
Clinical Coordinators
Michael Crothers, RN
Virginia Kelly, RN
Michelle Kaufman, RN
Katherine Craig, RN
Shannon Carter, RN
Stacy Harper, RN
Research Coordinators
Jennifer Greene, RN, BSC, CCRC 434.982.0709
Sharon Foster, CCRP 434.982.0709
Holly McComb, CRC 434.982.0709
Jaye Davis, RN 434.982.0709
Rebecca Hudnall, RN BSN 434.982.0709