Gynecologic Oncology Fellowship
Fellowship in Gynecologic Oncology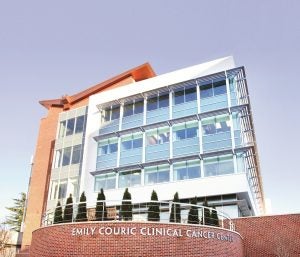 The Department of Obstetrics and Gynecology offers an ACGME accredited three-year fellowship in Gynecologic Oncology, under the direction of Charles "Chip" N. Landen, Jr., Associate Professor of Obstetrics and Gynecology.
We are committed to providing fellows with the environment and mentoring that will foster the next generation of gynecologic oncologists. The University of Virginia Hospital is a Level 1 trauma center situated in the heart of Charlottesville. The leading tertiary care hospital in Central Virginia serves a broad geographic region with a diverse patient population. The UVA Cancer Center is part of an elite group of 52 National Cancer Institute (NCI)-designated comprehensive cancer centers. These centers are leaders in cancer research, prevention, detection, and treatment.
The University of Virginia is consistently rated among top public institutions in the country and world-renowned for its achievements in teaching, research, and public service. Located in the thriving community of Charlottesville and surrounded by the Blue Ridge Mountains, UVA is an ideal place for fellows to explore and grow.
Program Information
The University of Virginia participates in the NRMP (National Resident Matching Program), accepting fellowship applications only through ERAS. For more information about the application process, see our applicant page.
We invite you to explore these pages to learn more about our program.
For further information regarding our fellowships please contact:
Charles Landen, M.D.
c/o Tracy McGlothlin, MD, Fellowship Coordinator
University of Virginia Medical Center
Department of Obstetrics and Gynecology
P.O. Box 800712
Charlottesville, VA 22908
Phone: 434-243-9877
Fax: 434-243-3442
email: Tracy McGlothlin, MD