Orthopaedic Giving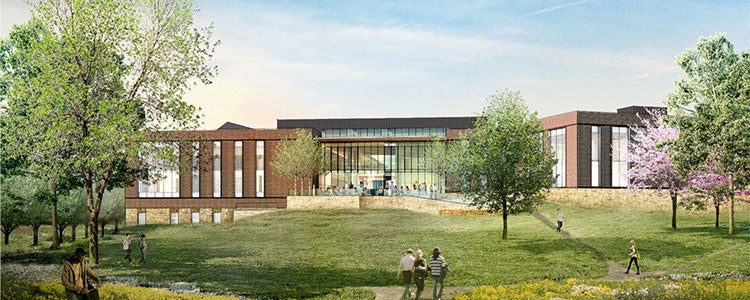 Help Make Great Orthopedic Care at UVA Even Better:
Each year hundreds of patients come to UVA's Department of Orthopedic Surgery looking for help in an emergency or hope for better quality of life. Patients who receive exceptional care often wonder if there's a meaningful way to express their gratitude. For alumni of the program, many want to ensure the future success of the department that prepared them for their careers. Private support is critical to advancing innovation in patient care and education.
UVA Orthopaedic Center Ivy Road:
The UVA Orthopaedic Center is NOW OPEN. This world-class complex offers nationally ranked expertise and care found in few other places—all in one setting. Complete with walking gardens and outdoor therapeutic spaces, the Center offers a comprehensive healing environment for both athletes and community members alike. Highlights include:
All services in one location, with easy patient access
Convenient parking
Nationally ranked specialist care
On-site diagnosis, imaging, surgery, physical therapy, and rehabilitation
Outpatient hip and knee joint replacement facility
Unique opportunities for ongoing research and education
The UVA Orthopedic Research Fund:
The University of Virginia Orthopedic Research Fund supports our orthopedic surgeon scientists as they perform groundbreaking research, provide the highest quality patient care, and educate tomorrow's leaders in orthopedic surgery. Your support can:
Speed groundbreaking discoveries to prevent and treat challenging orthopedic diseases
Quickly move discoveries out of the lab and into the clinic
Put more scientists to work on finding cures by establishing professorships to help recruit the most talented physicians and scientists
Give our investigators the resources and equipment they need to search for answers
Advancing Education:
Your gift to support education is an investment in the future of healthcare. Endowment gifts are long-term investments aimed at securing the success of the Health System for years to come.
Fellowships & Scholarships
In the face of rising tuition and fees, scholarships help UVA offer enrollment to qualified students regardless of their financial means. Equally important are graduate fellowships, which help us compete for the best students. A scholarship or fellowship may be endowed and named by the donor with gifts at two levels: $250,000 and $500,000.
Gifts of $2 million or more can endow professorships that enhance the scholarly pursuits of the Department of Orthopedic Surgery. By providing salary support, endowed professorships allow UVA to attract gifted teachers and to retain those already on faculty.
Your contribution—no matter its size—can be used where the need is greatest, or you can designate an area that is especially meaningful to you. 
To Make a Gift or Learn More, Visit:
Make a Gift:
To make a gift to Orthopaedic Surgery, click on the below link and then select "Designation."
Support Us
This link to learn more about our mission.
Or, if you would prefer, you may also speak directly with a development officer by calling (434)-962-3675
Make a Gift:
To make a gift to Orthopaedic Surgery, click on the below link and then select "Designation."
Support Us