Residency Program
Questions?
Click the button below to contact Jose L. Mattos, Residency Program Director
Email
We strive to train leaders – we want each resident to pursue a career in which he/she will be happy, stimulated, challenged, and gratified.  Whether the resident chooses private practice or academic Otolaryngology, we hope to instill a sense of giving back and being a leader – in the local hospital, in the community, in the Department, or in the Medical Center.
Questions?
Click the button below to contact Jose L. Mattos, Residency Program Director
Email
Accomplishments
Our residents publish papers in the major Otolaryngology journals and present their research at local, regional, and national meetings, including the Annual meeting of the American Academy of Otolaryngology-Head and Neck Surgery (the "Academy" meeting), and the Combined Otolaryngology Spring Meetings (COSM).
The Residency Program excels at preparing the resident for success after residency – whether that entails private practice, fellowship, or academic medicine.The programs residents have been accepted the best fellowships in the country – University of Iowa for Head and Neck (3), House Ear Clinic, University of Minnesota for Facial Plastics (2), UCLA for Facial Plastics (2) Adelaide, Australia (PJ Wormald) for Rhinology, and many others.
Program Highlights
We accept 3 residents/year
5 year program
PGY-1 year carries 6 months of OTO, plus one month of combined Neuroradiology/Radiation Oncology, one month in a unit (usually TCV-Postop), one month of Neurosurgery, one month of Thoracic surgery (part of general surgery), plus 2 months of General Surgery, per the Otolaryngology RRC requirements
4 protected months of research in the PGY-3 year
Rotations on the 4 services within the Department:  Head and Neck, Sinus/Otology, Facial Plastics/Laryngology, and Pediatrics.
4 protected months in PGY-4 year for private practice experience (Fredericksburg, VA)
Chief year (PGY-5) has 4 continuous months on the Head and Neck, Sinus/Otology, and Facial Plastics/Laryngology teams allowing for excellent continuity of care and a more in-depth clinical and operative experience
Supervision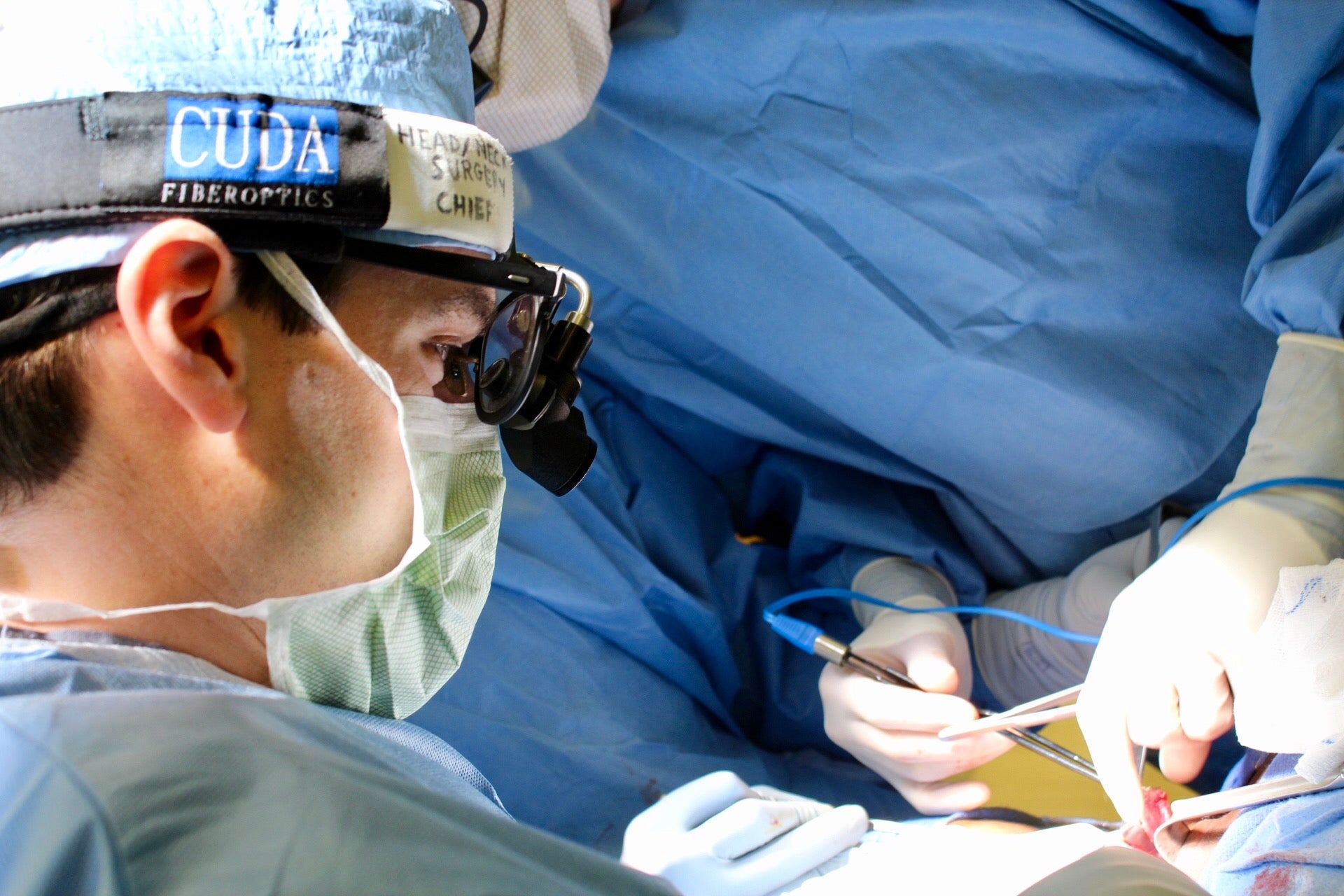 The faculty are deeply invested and engaged in the education of our residents.  It is our responsibility to assure that each resident is supervised appropriately in his/her patient care responsibilities.  The clinical responsibilities for each resident are based on PGY-level, patient safety, resident education, severity and complexity of patient illness/condition, and available support services.  As the resident matures in the program, we afford progressive authority and responsibility in the clinic and the OR and conditional independence in accordance with the Otolaryngology RRC and American Board of Otolaryngology requirements.  For more details about level of supervision, our Department's Supervision policy is posted to this website.
Electronic Residency Application
We participate in the Electronic Residency Application Service and match 3 applicants each year through the National Resident Match Program (NRMP).  Applications are reviewed (about 500 each year!), and from those, we invite about 50 applicants to interview from December through January. Our interview season is conducted in accordance with SUO/OPDO/AADO recruitment season recommendations. Visit their website for more information. https://opdo-hns.org/page/2022-2023RecruitmentSeasonRecommendations
Resident appointment is conditional based on the approval of the Clinical Staff Credentials Committee (CSCC) and the Clinical Staff Executive Committee (CSEC) and based on successful completion of credentialing, including but not limited to our review and acceptance of information from the criminal background check, successful completion of the pre-employment drug screen, passing applicable medical licensing exams (USMLE, COMLEX or MCCQE), receipt of a Virginia Medical License (if applicable), honest and accurate completion of all required paperwork and training modules prior to Orientation. For more information, please see the sample GME Contract.