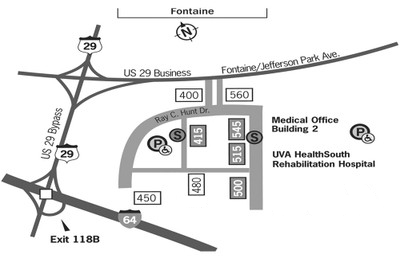 Appointments
UVA Medical Center
Fontaine Research Park
415 Ray C. Hunt Drive
Tel: (434) 924-5700 or (800) 251-3627
Division of Audiology
Fontaine Research Park
415 Ray C. Hunt Drive
Tel: (434) 924-2050
Charlottesville ENT Associates
652 Peter Jefferson Parkway, Suite 140
Tel: (434) 243-9415
Click here for directions to our facilities:http://www.virginia.edu/Map/directions.html
Health Care Team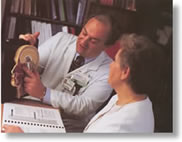 Your Otolaryngology physician is certified by the American Board of Otolaryngology and a faculty member of the UVA School of Medicine, one of the country's finest academic medical centers. UVA Otolaryngology-Head and Neck Surgery has consistently been listed in U.S. News and World Report as a top Otolaryngology Department, and a majority of the faculty are repeatedly listed in the Best Doctors of America.
Our goal is to provide our patients with the highest quality comprehensive head and neck care available in a setting that is both technologically advanced and compassionate.
As a premier academic medical center, UVA also teaches the specialists of tomorrow. These resident physicians and fellows are specialists-in-training who value your willingness to include them in your care and will always honor any concerns you may have about privacy.
Your specialist participates in a UVA-affiliated multi-specialty group practice known as the University Physicians Group (UPG). Working closely with your otolaryngology specialist are other highly-skilled staff. Your needs may include the services of nurses, audiologists, medical technicians, speech pathologists, oncologists, radiologists, and other health care professionals.
Before Your Visit
Check with your primary care physician or referring physician and confirm that all applicable records, lab reports, X-rays, pathology slides, and your most recent diagnostic tests have been sent or will be brought by you to your first appointment. Remember to bring a list all past and current medications. If this is a work-related or accident-related injury, please bring confirmation from your employer, or the worker's compensation/accident insurance company, stating their acceptance of financial responsibility for the services to be provided.
Your Visit
Please arrive 20 minutes early to complete your registration. When you arrive for your appointment, check in at the Otolaryngology registration/receptionist desk. Be sure you have your insurance card(s) with you. If you have insurance, referral, or pre-authorization paperwork, please give it to the registrationist at this time. Be sure you have the name, address, and phone number of any physicians who you would like to receive information about your care in our clinic. Your co-pay will be collected after your visit. While we cannot anticipate what specific diagnostic tests you will need before you arrive, we will attempt to have them all completed during your visit. We will work to accommodate your schedule as much as possible. As this is a specialty practice, some appointments may last two hours or more. Your care is our primary concern and we respect that your time is valuable. Each patient is assured our individualized care and confidentiality.
Lodging
If you live out of town and wish to stay in the area the night before or following your appointment, there are a number of reasonably priced hotels and motels nearby. To obtain a list of these accommodations and their discount patient rates, call Lodging Services at 434-924-1299 or 1-800-251-3627.
Fees, Billing & Payment Policy
Payment of your visit costs must be resolved at the time of your visit. We accept cash, Visa, Mastercard, America Express, Discover, or a personal check.
If you have insurance that requires a co-pay, we will collect it at your appointment when services are rendered and bill your insurance company for the balance. NOTE: Higher co-pays or the entire cost of your clinic visit may be your responsibility if the proper referral or pre-authorization is not obtained.
Upon proof of coverage of other insurance, we will send the charge to them and send you a statement reflecting the balance due from you. The deductible and co-pay amounts for which you are liable may vary by insurance company. If you have no insurance, then the bill for the visit is expected to be paid at the conclusion of the visit. We strive to provide the highest quality, economical health care. Our fees are based upon services provided by your physician plus the costs of any tests and evaluations that may be required. Every effort is made to keep your costs as low as possible while providing you with the best possible care.
If you need financial assistance, you should contact the UVA Medical Center's Patient Financial Services for financial screening prior to your appointment at (434) 924-5376.
NOTE: Our desire is to keep your costs lower by utilizing your insurance for its highest benefits. This is done by becoming familiar with the coverage provided by your plan. You may need to secure a referral from your primary care physician or a pre-authorization from your insurance company. It is good to check with your insurance company by calling the 800 # on your insurance card to discuss your benefits and whether a referral or a pre-authorization is needed for your appointment at our ENT clinic.
Billing Statements
Patient billing statements are generated from two sources. After each office visit, you will receive a statement for physician or audiology services from the University Physicians Group. If your physician asks other UPG clinicians to assist in providing for your care, these charges will appear on the same statement.
You may also receive a statement from the UVA Medical Center's Patient Financial Services Department if you have X-rays, laboratory tests or other hospital-related procedures. For our department, these may include services rendered by Audiology, Speech Pathology, Vestibular and Balance Center, and facility charges from endoscopic examinations.