Laryngology
Laryngology and Voice Care
We treat ear, nose and throat problems in people who use their voices extensively, including:
Singers
Clergy
Call center employees
Teachers/professors
Coaches
Docents
Conditions Treated
Vocal fold paralysis
Care of the professional voice
Spasmodic dysphonia and vocal tremor
Benign vocal fold lesions (polyps, nodules, cysts)
Vocal fold scar (sulcus)
Laryngeal webs
Vocal fold leukoplakia and dysplasia
Early glottic cancer (T1/T2 stage)
Vocal fold atrophy and presbylarynges
Laryngeal papilloma (recurrent respiratory papilloma)
Autoimmune disease of the larynx
Laryngocele
Saccular cyst
Muscle tension dysphonia
Zenker's diverticulum
Cricopharyngeal dysfunction
Esophageal strictures (cervical esophagus)
Laryngopharyngeal reflux
Subglottic stenosis
Posterior glottic stenosis
Services Provided
Medialization thyroplasty (Gore-Tex and Silastic)
Microsurgery of the vocal fold (phonomicrosurgery)
LASER endoscopic cricopharyngeal myotomy (minimally-invasive swallowing surgery
Endoscopic and open Zenker's diverticulotomy
Endoscopic and open surgery for upper airway stenosis

Cricotracheal resection
Endoscopic LASER cordotomy (minimally-invasive airway surgery)

Endoscopic LASER cordectomy (minimally-invasive cancer surgery)
Endoscopic LASER treatment of benign laryngeal disease
Endoscopic treatment of laryngoceles and saccular cysts
Endoscopic laryngeal web division and keel placement
In-office procedures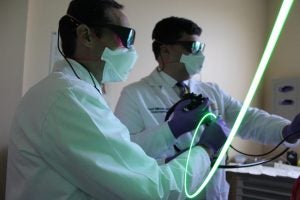 Laryngeal botulinum toxin injection
KTP laser treatment of vocal fold lesions
Vocal fold injection medialization
Upper airway steroid injection
Transnasal esophagoscopy
Transnasal tracheoscopy
Laryngeal videostroboscopy (flexible and rigid scopes)
Laryngeal electromyography (L-EMG)
Ancillary Services & Staff – Speech-Language Pathology
Multidisciplinary evaluation of voice and swallowing
Flexible endoscopic evaluation of swallowing (FEES)
Voice therapy
Singing voice therapy
Swallowing therapy
Speech Language Pathologists
Joanna Lott, CCC-SLP, Singing voice therapist
Holly Hess, CCC-SLP
Casey Resnick CCC-SLP
Nursing Staff
Debra Connor, RN
Melissa Mosley, MA
Patient Experience
Patients visiting the Voice and Swallowing Center at the University of Virginia will typically meet a whole team of providers dedicated to solving their medical needs. In addition to the doctor, this often includes a speech-language pathologist specifically trained in voice and swallowing rehabilitation, a resident physician, nurse practitioner, and nurse. The first visit may include a detailed exam of the voice and larynx (voice box). Using the latest high-definition video technology, our team can get a comprehensive evaluation of the vocal cords and surrounding tissues to identify problems. Vocal rehabilitation is provided by our specialty-trained speech pathologists and immediately accessible in the same office location. We also offer cutting-edge procedures right in the clinic, saving many patients general anesthesia and a trip to the operating room. Overall, this allows for one-stop-shopping for many patients that require specialized diagnostic tests, procedures, and voice/swallowing rehabilitation. We strive to give each patient the kind of care normally available only to well-known performers.
Links to more information on voice and swallowing: