Head and Neck Cancer
 Faculty
Mark J. Jameson, MD, PhD, FACS
Director
Division Overview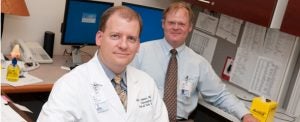 The Division of Head and Neck Surgical Oncology has long been nationally recognized for all aspects of head and neck cancer treatment.

It has received special recognition for work with superior nasal vault malignancies, sinus malignancies, and aggressive methods to spare the eye when treating sinonasal cancers.

We receive special recognition of our management of esthesioneuroblastomas and craniofacial resections.

Tumor biology research is currently being performed in conjunction with the Department of Internal Medicine and the Department of Hematology/Oncology, and a Departmental Molecular Biology Program is planned.
The robotic surgery platform at UVA provides
state-of-the-art care for head and neck cancer patients
Click here to view Division's Research Page
More information for patients with Head & Neck Cancer
The American Head and Neck Society (AHNS) Website