Katherine Fedder, MD
Katherine Fedder, MD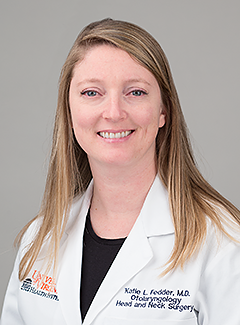 Head and Neck Oncology and Microvascular Surgery
Dr. Fedder is a fellowship trained Head and Neck Oncologic and Microvascular Surgeon at the University of Virginia. She specializes in the diagnosis and treatment of benign and malignant diseases of the head and neck.
Dr. Fedder grew up in Texas before traveling east to attend Duke University as an undergraduate. She then returned to attend medical school at the University of Texas in San Antonio. She went on to complete her residency in otolaryngology at Emory University in Atlanta, Georgia in 2014. From 2014-2015 she completed her fellowship in Head and Neck Oncology and Microvascular Surgery at the University of Miami under the instruction of 9 fellowship trained head and neck surgeons. After completion of her training Dr. Fedder joined the Department of Otolaryngology at the University of Virginia in 2015.
Dr. Fedder's clinical practice encompasses the surgical treatment of benign and malignant diseases of the head and neck. This includes tumors of the skin and upper aerodigestive tract along with diseases of the salivary glands. Her special expertise lies in complex microvascular reconstruction of the head and neck, which is often required after removal of large tumors in order to minimize functional and aesthetic deficits. She is also trained in transoral robotic surgery utilizing the da Vinci system. As an oncologic surgeon at the University of Virginia, Dr. Fedder collaborates with a multidisciplinary team of neuroradiologists, radiation oncologists, medical oncologists, palliative care physicians, nutritionists, and speech language pathologists who are vital in ensuring patients are offered the highest level of treatment and care.
Dr. Fedder is also involved in the education of our resident physicians and medical students here at the University of Virginia. She serves as Clerkship Director for 3rd and 4th year medical students and has collaborated with the School of Medicine to develop an advanced Head and Neck Anatomy elective for 4th year medical students pursuing relevant surgical specialties. In addition she is involved in ongoing efforts to continually improve the educational opportunities for our residents. She is also currently pursuing a Masters of Education through the University of Michigan. Her research interests are varied and reflect her passion for the clinical care of cancer patients as well as her interest in the education of physicians.
On a national level she is an active member of the Association of Surgical Education as well as the American Head and Neck Society, the Society of University Otolaryngologists, the American Academy of Otolaryngology- Head and Neck Surgery, and the American College of Surgeons. She serves on the Women in Otolaryngology Leadership and Mentorship Committee through the AAO-HNS.
When she is not at work, Dr. Fedder enjoys spending time with her husband Bill who works as Director of Instruction at a local golf club and her energetic dog Roger.