James J. Daniero, M.D.,M.S.
James J. Daniero, M.D. M.S.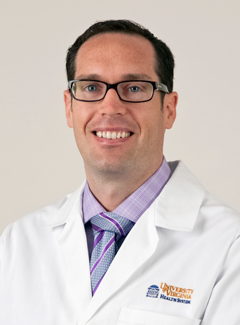 Director
Laryngology and Voice Care
James J. Daniero, MD MS is a fellowship-trained laryngologist at the University of Virginia. He specializes in the medical and surgical treatment of laryngeal disorders, including care of the professional voice. Dr. Daniero established the Laryngology Division within the Department of Otolaryngology-Head and Neck Surgery and currently leads a team of clinicians and researchers within the University dedicated to improving the lives of patients with laryngeal disorders.
Dr. Daniero received his undergraduate education at Bucknell University in central Pennsylvania followed by a Master's degree in Biotechnology from Georgetown University. He worked in Washington, DC for several years on health care policy while at the Institute of Medicine of the National Academies. Feeling a need to more directly affect patient care, he went on to pursue medical training at Eastern Virginia Medical School in Norfolk, VA. His training then took him to Pennsylvania where he completed his internship and residency training in Otolaryngology-Head & Neck Surgery at Thomas Jefferson University Hospital in Philadelphia. Afterward, he sought out special fellowship training in Laryngology and Care of the Professional Voice at the prestigious Vanderbilt Voice Center in Nashville, TN. Dr. Daniero joined the faculty at the University of Virginia in 2014 and quickly established the interdisciplinary Voice and Swallowing Center. Dr. Daniero's team is devoted to providing real-time interdisciplinary care for voice, airway, and swallowing problems. He offers many state-of-the-art diagnostic tests and laryngeal procedures right in the office setting, providing unprecedented patient convenience and value.
Dr. Daniero is a leader in the field of laryngology and stays involved on national level as a founding member of the North American Airway Collaborative (NoAAC), a multi-institutional consortium with 40 international participating centers, which works to disseminate information concerning the treatment of adult airway diseases. He also serves on the Voice Committee and Laryngology and Bronchoesophagology Education Committee of the American Academy of Otolaryngology. Dr. Daniero was appointed to the Post-Graduate Committee of the American Laryngological Association and is on the Task Force for New Material of the American Board of Otolaryngology.
Dr. Daniero's basic science research is focused on voice science, laryngotracheal stenosis, tracheal transplantation, and tissue engineering of the larynx. His research is supported by several industry collaborations and foundational grants, including a W.H. Coulter Foundation Translational Research Partnership Award and a Patient-Centered Outcomes Research Institute (PCORI) grant. He has a particular interest in health care technology development that stems from his biotechnology roots.
When Dr. Daniero is not busy treating patients or working in his laboratory, he enjoys restoring antique cars and hiking the blue ridge mountains with his family.
Click here to view Dr. Daniero's clinical profile