Delaney Carpenter, MD
Delaney Carpenter, MD
General Otolaryngology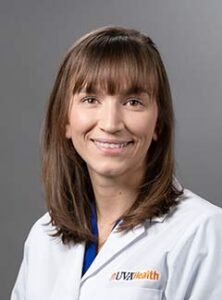 Delaney Carpenter, MD, is an ear, nose, and throat (ENT) doctor, who joined UVA Health in 2022. She cares for patients with a wide spectrum of ailments such as sinus problems, deviated septum, hearing loss, obstructive sleep apnea, ear infections, swallowing problems, and voice problems.
She enjoys taking care of patients of all ages, ranging from babies and young children to older adults.
A native of Mechanicsburg, Pennsylvania, Dr. Carpenter holds a bachelor's degree in neuroscience from the College of William & Mary. She earned her medical degree from the University of Virginia School of Medicine, where she also completed her residency in otolaryngology—head and neck surgery.
Dr. Carpenter is married, has one daughter, and is expecting a son in April 2023. She enjoys spending time with her family, home projects, baking, and outdoor activities.