William Brand, MD
William Brand, M.D.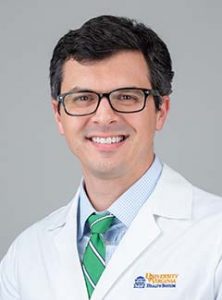 Pediatric Otolaryngology
William Brand, MD, is a pediatric otolaryngologist, specializing in ear, nose and throat disorders in children. He completed his general otolaryngology training at University of Wisconsin Hospitals and Clinics in Madison, Wisconsin, followed by a fellowship to learn advanced pediatric surgical techniques at Children's of Alabama in Birmingham, Alabama. He then worked in private practice in Charleston, South Carolina prior to assuming his role at UVA in July 2018.
Born in San Antonio, Texas, in a military family, Dr. Brand moved frequently as a child, but ultimately settled in Richmond, Virginia. He attended the University of Virginia and graduated with a Bachelor of Arts degree in Cognitive Science with a Neuroscience concentration. From there, he pursued a medical degree at the Virginia Commonwealth University School of Medicine, where he was the president of the Alpha Omega Alpha medical honors society.
Dr. Brand is a member of the American Board of Otolaryngology and a fellow member of the American Society of Pediatric Otolaryngology. His research interests include pediatric pain control and endoscopic techniques for airway obstruction.
In his free time, he enjoys watching sports and movies, visiting zoos and hiking and climbing with his wife, a local pediatrician.