Ariana Greenwell, MD
Ariana Greenwell, MD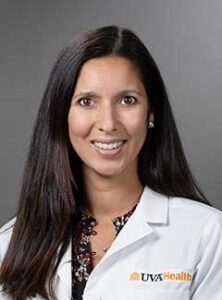 Pediatric Otolaryngology
Ariana G. Greenwell, MD, is originally from Boston. She was inspired to pursue medicine by her mother, who was a nurse. She graduated magna cum laude from Boston College with a bachelor's degree in psychology. She received her medical degree, also graduating magna cum laude, from the University of Maryland.
Greenwell completed her otolaryngology residency at the University of Maryland, then went on to a one-year fellowship in complex pediatric otolaryngology at Boston Children's Hospital. There, she received specific training in treating congenital neck masses, airway reconstruction, endoscopic sinus surgery, and otologic surgery (including cochlear implants). She is a member of the American Board of Otolaryngology, the American Broncho-Esophagological Association, and a fellow member of the American Society of Pediatric Otolaryngology.
Through clear communication and close familiarity with her patients and their families, Greenwell creates a partnership to help design and carry out personalized treatment plans. She particularly enjoys working with children. Her goal has always been to help people and finds her work with children especially exhilarating and rewarding.