George T. Hashisaki, MD
George T. Hashisaki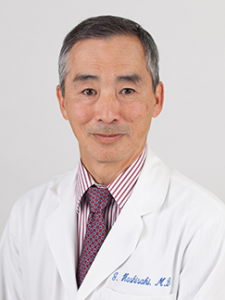 Otology/Neurotology
Dr. Hashisaki grew up in the state of Washington, and attended the University of Washington for both college and medical school. He did his Otolaryngology residency training at the University of Virginia, including a year of research under the guidance of Edwin Rubel, PhD. He completed a Neurotology fellowship at the University of Virginia with Paul Lambert, MD. Moving back to the West Coast, he practiced at the University of California-Irvine for almost 5 years. The lure of Virginia being too strong, he returned to the University of Virginia as a faculty member in 1994. He has been the fellowship director of the Neurotology fellowship program since 1999.
Dr. Hashisaki has served on the Executive Council of the American Neurotology Society. He is a former Senior Examiner for the American Board of Otolaryngology-Head & Neck Surgery. He is a past-president of the Virginia Society of Otolaryngology-Head & Neck Surgery.
With 2 grown children, in his spare time, he might be found fly fishing for trout, and still trying to get his wife interested in fishing. He volunteers for the local chapter of Project Healing Waters, a program to rehabilitate disabled active and retired military service personnel, by means of a fly fishing experience.