Spencer C. Payne, M.D.
Spencer C. Payne, M.D.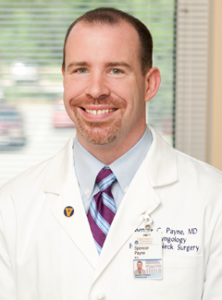 Director
Rhinology & Endoscopic Sinus Surgery
Spencer C. Payne, MD is a tenured Associate Professor of Otolaryngology at the University of Virginia. He obtained a BA in Biology from the University of Delaware and is proud to call himself a Fightin' Blue Hen! Following this, he returned to New York State, where he grew up, and completed his medical school training at Stony Brook University. His pursuit of residency training in Otolaryngology – Head & Neck Surgery took him to Henry Ford Hospital in Detroit, Michigan where he received the Outstanding Resident Award. After completing a fellowship in Rhinology & Sinus Surgery at the Lahey Clinic in Burlington, Massachussetts under the mentorship of Dr. Peter Catalano he took his current position as Director of Rhinology at the University of Virginia. During his time at UVA, Dr. Payne has also served as the Associate Program Director of the residency program and maintains a dual appointment in the Division of Allergy & Clinical Immunology with the Department of Medicine.
His special areas of interest are the immunological aspects of rhinosinusiits and the complexities of aspirin exacerbated respiratory disease. Regarding the latter, he is currently investigating mechanism behind the sensitivity that certain patients have to alcoholic beverages that he hopes will shed light on the underlying disease process.
Since residency, Dr. Payne has been very active with the American Academy of Otolaryngology – Head & Neck Surgery with which he currently maintains Fellowship status and served on numerous committees. He is also the current chair of the Information Technology Committee for the American Rhinologic Society and serves as their webmaster.
In his free time Dr. Payne likes to spend time with four children. When additional time permits he enjoys travel, hiking and exploring the science behind a better cocktail.
Click here to view Dr. Payne's clinical profile