David C. Shonka, Jr., MD
David C. Shonka, Jr., MD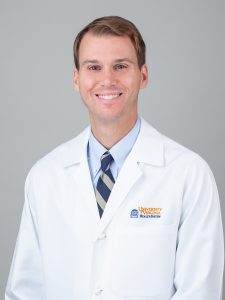 Head and Neck Oncologic and Microvascular Surgery
David C. Shonka, Jr., MD is a fellowship-trained head and neck endocrine and oncologic surgeon at the University of Virginia.  He specializes in the surgical treatment of endocrine disorders of the head and neck including thyroid cancer and hyperparathyroidism.
Dr. Shonka grew up in the town of Clifton, Virginia.  He completed his undergraduate, medical and residency training at the University of Virginia from 1996 to 2009. He went on to complete a clinical fellowship in head and neck oncologic and reconstructive surgery at the prestigious University of Iowa.  He returned to the University of Virginia in 2010 and has advanced to Associate Professor in the Department of Otolaryngology-Head and Neck Surgery, Division of Head and Neck Oncologic and Reconstructive Surgery. Dr. Shonka's clinical practice has focused on surgical treatment of endocrine disorders of the head and neck and treatment of head and neck malignancies. Dr. Shonka received special training in transoral robotic surgery with use of the da Vinci surgical system. His clinical interests include thyroid cancer, parathyroid surgery, head and neck squamous cell carcinoma, salivary gland malignancies, and cutaneous malignancies.  Dr. Shonka works with endocrinologists, radiation oncologists and medical oncologists at the University of Virginia to provide interdisciplinary care for endocrine disorders and malignancies of the head and neck.  He offers many state-of-the-art diagnostic tests including head and neck ultrasound and ultrasound guided needle biopsy in the office setting, providing excellent patient convenience and value.  Dr. Shonka routinely performs extremely complex surgeries, often in the setting of prior surgical treatment or radiation, with excellent clinical outcomes.
Dr. Shonka is involved on a national level as a member of the American Head and Neck Society (AHNS), American Thyroid Association (ATA), American Academy of Otolaryngology and Head and Neck Surgery (AAO-HNS), and the American College of Surgeons (ACS).  He serves on the Endocrine Committee of the AAO-HNS and the Endocrine Committee of the AHNS.  He often serves as a course instructor for exported ACS Thyroid, Parathyroid, and Neck Ultrasound Courses.  Dr. Shonka's research interests include thyroid and parathyroid disorders, quality metrics in head and neck endocrine surgery, oncologic and functional outcomes after transoral robotic surgery, head and neck cancer tumor biomarkers, and head and neck imaging modalities.  He is an active research mentor for medical students and residents.  He recently completed a prospective clinical trial evaluating the effect of pre-operative treatment of patients undergoing total thyroidectomy with calcitriol on postoperative calcium levels.  He is also involved in the development and implementation of additional clinical trials to test new surgical and medical treatment approaches.
When Dr. Shonka is not at work, he enjoys spending time with his wife and four children.  Between his daughter's ballet performances and piano recitals and his three boys' numerous sporting events, life is full in the Shonka house!
Click here to view Dr. Shonka's Publications
Click here to view Dr. Shonka's Clinical Profile