Univen Collaboration
About
Catalysts for Change
Read the article "Catalysts for Change" on the Thaler Center's research online [go to pp 22-25]
Learn More
The collaboration between the Myles Thaler Center and the University of Venda (Univen) started way back in 2006 when Dr. Pascal Bessong the current head of Microbiology at Univen spent a year at the Thaler Center for a post doctoral training. This training led to many exchange visits between students and scientists from both institutions. Currently we are expanding our collaboration to include projects aimed at understanding the south African HIV epidemic with particular interest on HIV-1 subtype C.
For the last six years the Thaler Center through Professors Hammarskjold and Rekosh have initiated several exchanges between UVa and the University of Venda (Univen). Graduate students and scientists from Univen have travelled to UVa to learn new techniques in molecular biology at the Myles Thaler Center as well as some other laboratories in UVa. Members of the Myles Thaler Center have also initiated and organized for the last 2 summers a 3 week molecular biology and biotechnology training course at Univen. This course which involves theory and hands on practicals brings student participants from Univen, other South African Universities as well as neighboring countries. More than 50 students have been trained within the last 2 years.
Catalysts for Change
Read the article "Catalysts for Change" on the Thaler Center's research online [go to pp 22-25]
Learn More
Humanitarian Missions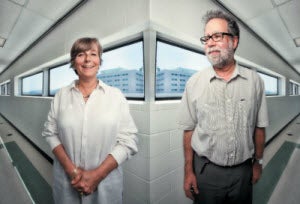 Considering the recent roll out of antiviral therapy (ARV) in South Africa, we are initiating some HIV related projects that will improve knowledge and understanding of ARV treatment and monitoring in regions in and around Univen, the Vhembe district and Limpopo Province in general. Our immediate aim is to forster a north-south collaboration in which UVa students would have the opportunity to travel to Venda and work in unison with Univen students to evaluate and determine some limitations in the currently run ARV programs in Limpopo. Results from these studies will help ameliorate these programs.
Our secondary aim is to initiate laboratory oriented scientific questions which will shed light on the biology of HIV-1 subtype C, the most prevalent subtype in the HIV pandemic. Studies will include HIV molecular epidemiology, drug resistance and evolution of the virus among drug naive and exposed patients.