Research
 Myles Thaler Center Facilities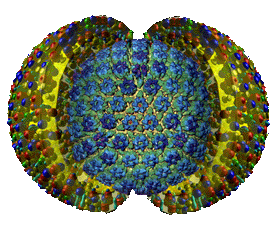 The Center occupies laboratory space on the seventh floor of Jordan Hall. It is equipped with state-of-the-art-facilities, including a BSL-3 laboratory for work with infectious agents. In addition, The University of Virginia Health System has a number of shared Research Core Facilities that have evolved over a period of many years. These facilities continue to be supported largely through an endowed grant to the University, the Pratt Fund. Each of the facilities is available to the investigators interested in virology research and their trainees.
 Protocols
 Patents held by the Myles Thaler Center
A novel retroviral nucleotide sequence comprising a constitutive transport enhancer which functions to transport mRNA transcripts from the nucleus to the cytoplasm of a cell, wherein the mRNA transcript is either differentially spliced, alternatively spliced, incompletely spliced, or unspliced. Additionally disclosed are methods of using the constitutive transport enhancer to screen agents for antiviral activity against rev-dependent HIV proteins by expressing the proteins in a rev-negative subgenomic construct containing the enhancer either in the presence of absence of the agent. Additionally, disclosed are methods of making a constitutive transport enhancer by isolating a sequence to be tested for constitutive transport enhancer activity, inserting the sequence into a vector containing a DNA sequence not normally transported from the nucleus to the cytoplasm so that both the enhancer and DNA molecule are transcribed as part of a functional mRNA transcript in a mammalian cell, introducing the recombinant vector into a mammalian cell, assaying for the nucleocytoplasmic transport of mRNA corresponding to the DNA molecule, and isolating and purifying the sequence having constitutive transport enhancer activity.
Recent Publications
VUARC – Virginia Universities AIDS Research Consortium
VUARC Meetings
Third VUARC meeting: May 11-12, 2012, Graves Mountain Lodge, Syria, VAFourth VUARC meeting:  February 22-23, George Mason Inn, George Mason University
Second VUARC meeting: October 7, 2011 AIDS Conference, the Wyndham hotel in Virginia Beach, VA
First VUARC meeting:  February 2, 2011, Virginia Commonwealth University, Medical Center in Richmond, VA