Contact
Map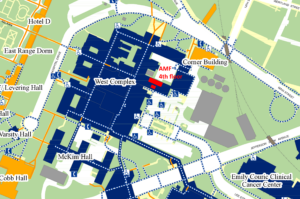 Click on the small map or use the University of Virginia interactive map http://mapviewer.gis.virginia.edu/public/ (requires Microsoft Silverlight), and search for "Medical School Building"
Directions
Take the link to the West Complex from Pinn Hall (on level 2) or Hospital (on level 1).
Turn right to enter the lobby of the West Complex and head to the right of the information desk.
Pass West Elevators A and turn right as though heading to the Corner or Eye Clinic.
Pass through 2 open doorways and after about 50 yards look for Old Medical School Elevator #3 on your left,  (you must enter the Old Medical School on level 1 or 2) or stairs on right just past the elevator; the Medical School auditorium is past both elevator and stairs.
Go to 4th floor. On exiting the elevator, you will see a sign pointing to Advanced Microscopy Facility (veer right). From stairs, turn left, and left again at the end of the corridor. Room 4806 is a third of the way down the corridor.