Medical School Building (Old Medical School) room 4806-see map and directions below or use the University of Virginia interactive map (search for Medical School Bldg) or use a Google map. Phone number 434.924.2524
Personnel
Director: Stacey Criswell, Ph.D.
Assistant Professor
sjm7r@virginia.edu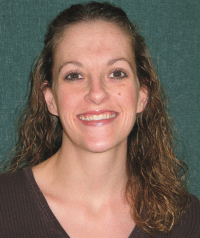 | | |
| --- | --- |
| Presentation of  2012 Outstanding Core Award by Jay Fox, Associate Dean for Research Infrastructure. The core also received this award in 2004. | |
The Advanced Microscopy Facility, started in 1979, is supported by the University of Virginia School of Medicine and by a National Cancer Institute Cancer Center Support Grant to the University of Virginia. Typically 72 investigators from 44 different departments/divisions use the facility each year.
Maps
Click on the small map to the right  or you can use the University of Virginia interactive map 
http://mapviewer.gis.virginia.edu/public/
(requires Microsoft Silverlight), and search for "Medical School Building"
Directions
Take the link to the West Complex from Pinn Hall (on level 2) or Hospital (on level 1).
Turn right to enter the lobby of the West Complex and head to the right of the information desk.
Pass West Elevators A and turn right as though heading to the Corner or Eye Clinic.
Pass through 2 open doorways and after about 50 yards look for Old Medical School Elevator #3 on your left ,  (you must enter the Old Medical School on level 1 or 2) or stairs on right just past the elevator; the Medical School auditorium is past both elevator and stairs.
Go to 4th floor.  On exiting the elevator, you will see a sign pointing to Advanced Microscopy Facility (veer right). From stairs, turn left, and left again at the end of the corridor. Room 4806 is a third of the way down the corridor.
Oversight Committee
Jeffrey T. Corwin, Faculty Science Director and Chair
Department of Neuroscience
Steven H. Caldwell
Department of Gastroenterology and Hepatology
Brant E. Isakson
Department of Molecular Physiology and Biological Physics
P. Todd Stukenburg
Department of Biochemistry
Ann L. Beyer
Department of Microbiology
Adrian J. Halme
Department of Cell Biology
Jung-Bum Shin
Department of Neuroscience

---