Community Advisory Council
The University of Virginia Cancer Center's Community Advisory Council provides guidance to the UVA Cancer Center's leadership, community outreach, and research ensuring initiatives address community priorities and cancer health disparities across the catchment area.  The Council is comprised of cancer survivors, community members, healthcare partners, faith-based organizations, government officials and representatives from community organizations from across the UVA Cancer Center's catchment area.
Priority Recommendations
The identified priority recommendations from the Council provide a framework to gear our current and future work of the Cancer Center. From basic to population science, the recommendations should be integrated to positively impact the health of our catchment area residents. Strategic investments from the Cancer Center will be made to assure the recommendations are addressed throughout our research and programmatic activities.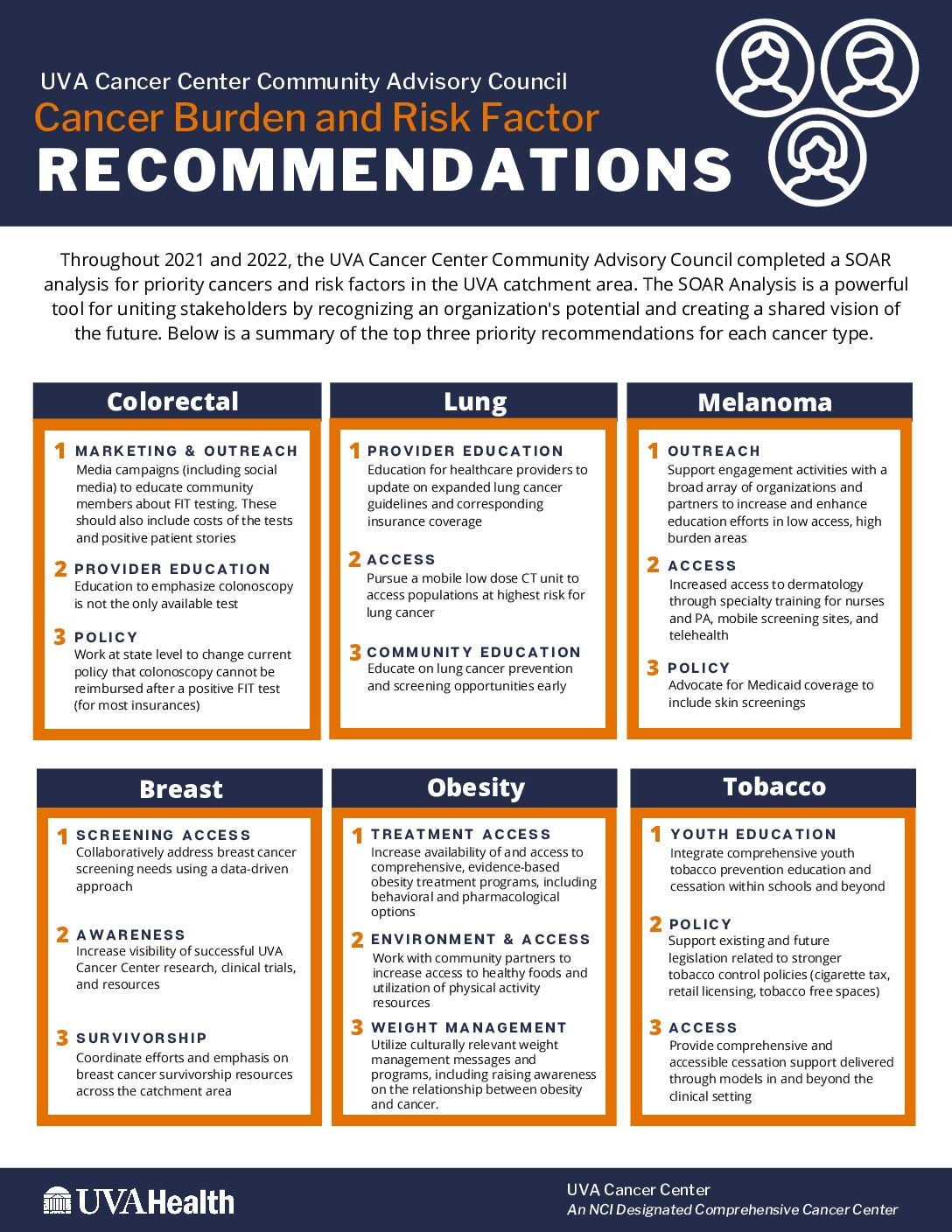 Community Advisory Council Members
Christina Benton
Virginia Comprehensive Control Program
Ericca Facetti
Virginia Health Catalyst

Jenny Ostien
West Virginia University Cancer Institute
Jessica Brantley
Charlottesville City Schools
Anjanette Farmer
Piedmont Access to Health Services, Inc (PATHS)
South Center Region Area Health Education Center
Scott Schriefer
Pastor, Outreach Minister
Michelle Brauns
Community Health Center of the New River Valley
Lee Grinnan
Community Advocate Pediatric Cancer Survivor
Peggy Scott
Community Advocate
Howard Chapman
Tri-Area Community Health
James Hiter
Streak for a Cure Cancer Survivor
Autumn Smith
Community Advocate Pediatric Cancer Survivor

Annika Dean
American Cancer Society
Lauren Hixenbaugh
West Virginia University Cancer Institute, Mountains of Hope
Julie Speasmaker
UVA Cancer Center Development Advisory Board Cancer Survivor
Brian Donohue
ACS Cancer Action Network Cancer Survivor
Shirley Knox
Sister's Conquering Cancer Cancer Survivor
Mindy Thorpe
Virginia Rural Health Association
Annie Martinie
Danville Regional Foundation
Andy Wolf
UVA Health