Chief Residents
Welcome! We are excited that you are considering the University of Virginia Internal Medicine Residency Program.
Training at UVA has been a great experience for us, and equipped us with the tools to become leaders in medicine. Our program provides a perfect balance between hands-on patient care, dedicated faculty educators, and cutting-edge research opportunities.
As chief residents, we are proud that our program is resident-centered and unequivocally resident run. From service structures to conference schedule, residents are involved with the design of every aspect of the program.
We look forward to meeting you and introducing you to our residency program during interview season.
Welcome Message from Chief Residents
Chief Residents 2022-2023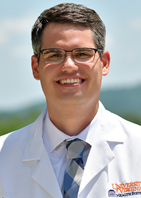 I am a lifelong Virginian and was born and raised in Centreville, VA. I attended Virginia Tech for my undergraduate studies (Go Hokies!) where I majored in Biological Sciences with a minor in Philosophy. After college, I spent a year at the National Institutes of Health conducting research on stem cell transplantation. I then completed medical school at the Virginia Commonwealth University in Richmond, VA. I was absolutely thrilled to match at UVA, which was my top choice for residency!
When applying for residency, I was looking for an academic medical center that would provide me with exceptional training, ample research opportunities, and a program that valued work-life balance. UVA has checked all of those boxes for me, and I cannot emphasize how happy I have been with my experience here. While on my in-person interview day at UVA (back when those were still a thing), I was blown away by the camaraderie amongst the residents, who all seemed like good friends in addition to knowledgeable colleagues. I can still remember one of the chief residents giving a phenomenal conference on multiple myeloma, and I think I was sold at that point. I am happy to say that the same espirit de corps I witnessed on interview day has lived on in our residency throughout the COVID pandemic and is still easily appreciable even during our virtual interviews.
I am proud of the training I have received in all of the major subspecialty fields within Internal Medicine and have enjoyed the convenience of UVA's one hospital system. I have also been able to work on research projects with multiple mentors within the field of Hematology/Oncology. However, perhaps most importantly for me, UVA's work life balance has allowed me to maintain a healthy level of personal wellness.
Outside of the hospital, I enjoy eating at the many delicious restaurants Charlottesville has to offer, spending time with my wife and the lifelong friends we've made during residency, playing golf, fishing, and grabbing drinks at a local winery or brewery. After chief year, I plan to pursue a fellowship in Hematology/Oncology and hope to later have a career in academic medicine.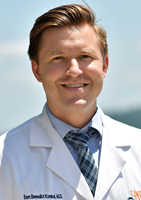 I was born in London and raised in Carlisle, a small industrial city near the border of Scotland, in a region of England known as the Lake District. I moved to the U.S. in grade school and spent much of my remaining formative years in Wisconsin surrounded by streams, woods, wetlands, and the glorious freedom afforded to the youngest (and best behaved) of three boys.
In college I studied biology and worked as a pharmacy technician and nurse assistant. I attended medical school at UNC Chapel Hill, where my wife was completing her pharmacy residency training. and then followed her up to UVA where I completed residency and she became seasoned as an academic cardiology pharmacist.
Mary and I have loved Charlottesville from very early on. It is a peaceful town, surrounded by beautiful countryside with a vibrant and active (albeit small) cultural scene. Our dog Remy enjoys the many parks and the ease to which we can get out into the countryside to run and chase squirrels, woodchucks or rabbits.
I have absolutely adored my medical training at UVA and find that it is really second to none when compared to my friends and colleagues across the country. There is a wonderful balance struck between autonomy and safety, medical education and patient care, and ambulatory and inpatient medicine exposure. I was blessed to have been given the opportunity to train here and I am honored to have been chosen to serve the program as chief resident as we move through the next difficult but equally rewarding year of graduate medical education.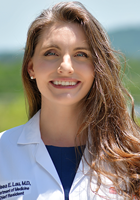 I grew up in a small town called Hastings in Nebraska, before heading north to Carleton College in the even smaller town of Northfield, Minnesota. I moved to Minneapolis to work at the University of Minnesota for a few years before starting my medical training journey at UVA School of Medicine here in Charlottesville. Shortly thereafter I met my husband, Buzz, who was completing his MBA at UVA's Darden Business School.
As a medical student on the wards at UVA, as soon as I rotated on the Internal Medicine service I was struck by the collegial atmosphere of the program – residents often seemed more like close friends or family members than co-workers. Their mutual respect and support of one another was later described for me as the famous UVA "esprit de corps", and I knew I wanted to be a part of it! When it came time to choose a residency, there was no other place I could imagine training.
Not only have I made friendships and connections that will last a lifetime, I've also had the benefit of a remarkable breadth of clinical experience, with patients referred from all over the state and surrounding areas seeking care from our specialists and generalists. Our faculty are as committed to outstanding medical education as they are to clinical excellence, and mentorship is readily available no matter what your intended specialty may be. Like our attending educators, our residents are also deeply invested in teaching, contributing to daily resident-led educational conferences and mentoring medical student learners on the wards.
As amazing as learning in the hospital has been, UVA's commitment to work life balance has meant that my life outside the hospital has stayed healthy and full. Buzz and I enjoy eating at any of Charlottesville's fantastic restaurants, appreciating the outdoors on a hike to Humpback Rock or at one of the area's beautiful vineyards, and reading a good book while cuddled up with our cats!
UVA's training has made me fall even more in love with medicine, and while I enjoyed all of my experiences here I found my home in cancer care; this summer, I am applying for a fellowship in Hematology/Oncology to follow chief year, and know that I have had the best preparation possible for pursuing my career goals in academic medicine.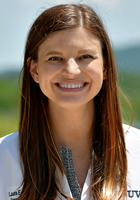 I've spent much of my life living within the borders of Mississippi, and truth be told, I was a little hesitant to leave the comforts of home when I was looking at residency programs. That quickly changed for me as soon as I drove past the idyllic Blue Ridge mountains and into the city of Charlottesville. What drew me to C'Ville was the small-town feel coupled with the energy of a much larger city. There are plenty of opportunities to take part in my favorite activities on days off, including outdoorsy things (hiking in Shenandoah with my dog, Huntley, or tubing on the Rivanna River) and relaxing ones (eating at one of the many great restaurants or spending time with friends at a brewery or winery).
However, it wasn't just Charlottesville itself that drew me in. I left my interview dinner thinking about how much fun I had with people who could be future colleagues. That feeling lasted throughout my interview day, and I quickly felt welcomed at a program that was very far from home. The camaraderie I experienced on interview day has been consistently demonstrated during my time here as I've witnessed residents, faculty, and staff go out of their way to provide support to those around them. In addition to the collegial atmosphere, UVA provides top-notch education and excellent clinical training, all while holding the humanistic care of the patient as foundational. Here, you will be taught to practice with independence that is appropriate for your level of training, while still having support close by when you need an extra hand. Lastly, and most importantly, are my co-residents. I couldn't imagine going through residency with a more supportive, fun, and brilliant group of people than those I was able to work with on a daily basis – and I certainly couldn't have done this without them.
Before I started residency, I felt like it was something I would just have to survive on my path to becoming an attending. It absolutely had its challenges and tough days. However, after three years, I can say that I have never experienced more growth on a professional and personal level than I have at UVA. Even on the hardest days of residency, it was never lost on me how lucky I was to have the opportunity to train here (or to serve as one of your chief residents)! After chief year, I plan to apply for a fellowship in Endocrinology.
Rising Chief Residents 2023 - 2024
Meet Kara Harrison, MD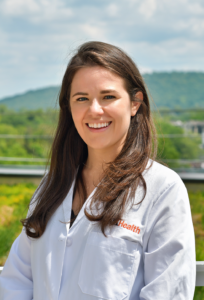 Medical School: University of Virginia
Meet Joseph Mort, MD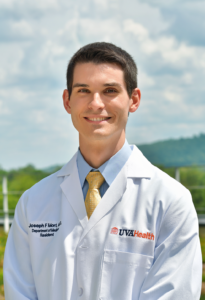 Medical School : University of Virginia
Meet John Popovich, MD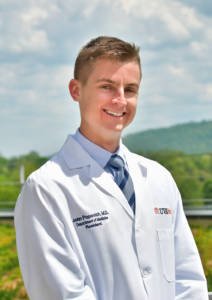 Medical School: University of Virginia
Meet Margo Tanner, MD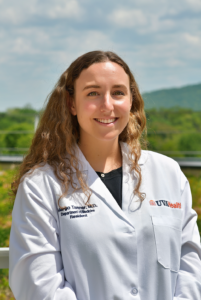 Medical School: Wake Forest University
Rising Chief Residents 2024-2025
Meet Thompson Barr, MD

Medical School: Medical University of South Carolina
Meet Marcus Ellison, MD

Medical School: Medical University of South Carolina
Meet Shaina Hasan, MD

Medical School: Mayo Medical School
Meet Kiarash Salafian, MD

Medical School: Wake Forest University