Student Life

UVA School of Medicine is a friendly, welcoming learning community where students learn not only the art and science of practicing medicine, but also develop personally. Students can find a wide range of activities to match their interests, including research opportunities, hands-on clinical experiences, and student organizations. And when it's time to relax, the Charlottesville area offers numerous festivals and events, easy access to outdoor activities, great restaurants, and robust arts and crafts communities. Our students feel at home here.
Student Experiences
Our diverse student body brings together many different perspectives, strengthening classroom discussions and study group sessions. Enjoy a selection of personal stories captured below:
More Student Interviews
Danny Soto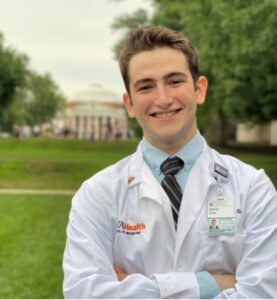 Year: SMD25
Hometown: Milwaukee, WI
Undergraduate Institution: Johns Hopkins University
Major: Neuroscience
Gap Year: None — immediately transitioned into medical school
Why did you choose UVA?
UVA's giant spreadsheet of all the students who were willing to chat with interviewees gave me the first glimpse at how welcoming and supportive the school environment was, in addition to the respect the seemed to provide their students with fast decision turnaround times and friendly interviewers/faculty/students. Paired with solid research opportunities and a true pass/fail system, I admired UVA very early on.
My classmate and I have been provided a platform by the fitness group "VMed Strength" to teach latin dance to our fellow classmates (who are now all on their way to "Dancing with the Stars"), and each time we get to teach it to them we have an absolute blast.
Mulholland Society/Student government as ex-secretary and now current treasurer, Latino Medical Student Association & Latino Health Initiative, independent summer research at UVA
There is a strong latin dancing scene here in Cville, so I love to go out and dance!
You get a lot more out of medical school by not being too hard on yourself when you fail or don't do as well as you'd like, but instead pushing yourself to learn a little more and do a little better after each time you get these unsatisfactory results. Don't be your own worst enemy, because medical school is hard and you're the best support you got!
Ishaan Rischie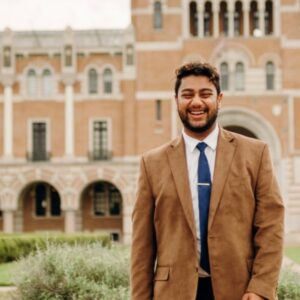 Class Year: SMD 2026
Hometown: Atlanta, GA
Undergraduate Institution: Rice University (Houston, TX)
Undergraduate Major: Biosciences (conc. in Biochemistry & Cell Biology), Kinesiology (conc. in Health Sciences), & Medical Humanities (minor)
Why did you choose UVA?
UVA interview day was easily one of my favorite interview experiences! The students and faculty were genuinely excited to meet us and tell us about the School of Medicine, and I could see that the students really valued a sense of work-life balance. Aside from the community vibes, I also loved the combination of unique opportunities that UVA offered me. First, I was excited for the chance to see and work in two very different healthcare settings: the regional coverage of the UVA Health main campus versus the urban populations at Inova Fairfax Hospital. Second, UVA was one of the medical schools that best demonstrated its commitment to diversity, ethics, and social issues in medicine. In addition to the numerous Social Issues of Medicine lectures that are built into the curriculum, I was really excited for things like the Ed Hooks Scholars Program in Bioethics and Humanities as well as UVA's patient-student partnership program. All in all, I chose UVA because it was kind of a perfect fit.
While I didn't take a formal gap year, I basically turned my senior year of undergrad into a gap year experience since I went part-time both semesters. The majority of my time working with the Center for Medical Ethics and Health Policy at Baylor College of Medicine. While there, I conducted research projects that investigated disparities in pediatric ethics consults and analyzed the ethical considerations of the Texas Advanced Directives Act. I also took on an R&D role as an Advisory Board Member for a mobile health startup and nonprofit that is developing a holistic health and AI-based symptom management platform for cancer and COVID-19 patients. When I wasn't working, I spent as much time as possible with my friends, got really into volleyball, and rekindled old hobbies like painting and golf.
I am absolutely not a camping or outdoorsy person by any means, so anyone that knows me will be surprised to discover that one of my favorite memories of medical school was VMOO (Virginia Medical Outdoors Orientation). Without giving away too many spoilers, VMOO is the School of Medicine's orientation program that gives you the chance to meet some of your fellow classmates and upperclassmen before your first day of classes. Despite my nervousness about sleeping in a tent for two nights with basically strangers, I am so glad I decided to go because many of my absolute best friends are people that I met during the trip (looking at you Cow Car Squad). In fact, the whole experience was a great way to not only meet new people but also got me out of my comfort zone and left me more open to the new learning environment of UVA medical school.
I currently serve as the Class of 2026 Vice President in Mulholland Society, which is our student government at UVA School of Medicine. In addition, I am one of the Social Chairs for the South Asian Medical Student Association that was newly established in Fall 2022. As part of UVA's Social Issues in Medicine curriculum, I volunteer regularly at The Center at Belvedere, a local community center for older adults in Charlottesville, where I help teach art classes and assist with special events aimed at promoting healthy aging. Since starting at UVA, I have also gotten involved with health policy and advocacy though our Health Policy Interest Group as well as our campus chapters of the American Medical Association (AMA) and the Medical Society of Virginia (MSV). I am currently Co-President of the UVA campus chapters of AMA/MSV, and I was recently selected to join the AMA Medical Student Section's Standing Committee on Bioethics and Humanities. Lastly, I am working on research related to gender-affirming surgical care with the UVA Department of Plastic Surgery.
I love going to events at local breweries and wineries all around Charlottesville with my friends. So far, Carter's Mountain Sunset Series is my favorite – you can't ask for better with their rotating food trucks, wine flights, cider flights, apple cider donuts, and mountain sunsets. I also enjoy exploring different restaurants in Charlottesville, but over my last 4 years of undergrad in Texas, I have become an absolute fiend for Torchy's Tacos. That's why I am so happy to share that Charlottesville is home to one of the few non-Texas franchises of this awesome Tex-Mex chain – I personally guarantee that their green chili queso is the best queso you will ever have!
Medical school is a lot more complicated than just going to classes, showing up to anatomy lab, and studying flashcards all day. The best way to navigate the complexity is to rely on the experience and guidance of peer mentors. Before coming to medical school, I didn't understand just how important my upperclassmen mentors would be to my success, so I am incredibly grateful that I was lucky enough to find some of the most amazing mentors at UVA despite not actively evaluating medical schools on that factor. My mentors have connected me with some of my most meaningful extracurricular activities, have expanded my social and professional network across Virginia, have guided me in making decisions about the specialties I'm interested in, and have given me all the tips, tricks, and advice that they can to help me succeed. When making med school decisions, prospective medical students should really consider how a school supports formal and informal peer mentorship to build more cooperative learning environments.
VMED Strength – A Student led initiative
UVA medical students working with the UVA SOM Alumni Association proposed and built a student run gym specifically for UVA medical students use. The gym offers UVA medical students a wide variety of classes, equipment and peer support.
Learning Communities at UVA School of Medicine
Our innovative learning communities approach provides longitudinal-support, mentoring and curricular structures that help students succeed. These four learning communities, called "Colleges," enable a social context for learning, facilitating more consistent oversight of clinical performance and professional development.
The City of Charlottesville is located in Central Virginia, approximately 100 miles southwest of Washington, D.C. and 70 miles northwest of Richmond, Virginia. Charlottesville serves as the economic, cultural, and educational center of a multi-county region in Central Virginia. It includes many of the advantages of a much larger community, including theater, dance, and musical performance, art exhibits, and opportunities for swimming, tennis, skiing, hiking, canoeing, and other sports. Nearby attractions include Thomas Jefferson's home at Monticello, James Madison's home Montpelier, and James Monroe's home Ash Lawn.
The City of Charlottesville, locally known as "C'ville", is consistently ranked one of the best places to live in the United States and is home to a diverse population. In 1998, it became the smallest city in the U.S. to have an International Refugee Committee Site and has embraced refugees from more than 25 countries including Bosnia, Togo, Uzbekistan, Bhutan and Myanmar (formerly Burma). A large migrant population from South and Central American also contribute to an international community within the city.
Behind the Scenes at Charlottesville TomTom Festival
5 Things to do in Charlottesville
Please also refer to the Graduate Guide, for more information on these and other aspects of life in Charlottesville.
You couldn't ask for a better place to live and study than in the Washington metro area.  You'll enjoy the area's many museums, historical landmarks, art galleries, multi-cultural dining, professional sports venues, entertainment and shopping.  Public transportation is inexpensive and convenient via the area's vast Metro rail system, so getting around is easy.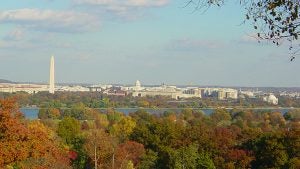 From city to suburbs, all is within reach and the diversity of community living options allows for students to choose where they will grow and benefit the most. There is a robust offering of housing within walking distance of the Inova Fairfax Medical Campus and a very short distance away from the newly developed Mosaic district that maintains all one needs for the staples of life plus the opportunities to dine and be entertained.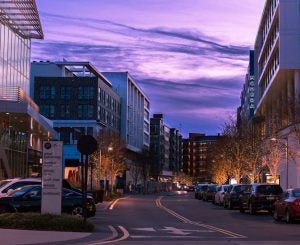 Student activities at the School of Medicine include a broad, diverse range of clubs, courses, and activities both relating to the curriculum and extracurricular in nature. For more information about SOM activities, see the SOM Student Clubs & Activities website. In addition, School of Medicine students have access to all University facilities, clubs, and creative or athletic activities and events. Learn more about the major types of activities included, below:
The Mulholland Society – Student Government
The University of Virginia has a long-standing tradition of student self-governance which at the medical school is the Mulholland Society. This organization includes all medical students, and promotes the interests and concerns of the student body.
The Mulholland Society also educates and informs students of national and regional events in the medical field and serves as an outlet for the academic, social, and athletic interests of medical students. Members of the Mulholland Society are elected to represent the School of Medicine on University-wide committees such as the Honor and Judiciary Committees and the Student Council.
The Mulholland Society serves as the coherent student voice. We endeavor to promote the various interests and concerns of all medical students to the faculty and staff of the Health System.
Furthermore, we seek to provide an outlet for academic, social, athletic and personal interests. We meet regularly, and our meetings are open to all students.
For additional information on Student Clubs, and to buy School of Medicine (SOM) Merchandise, visit the links below:
More information about The Student Clubs.
More information about The SOM Merchandise.
University of Virginia Honor Code
The University of Virginia Honor Code is at once an injunction and an aspiration. The injunction is simple: students pledge never to lie, cheat, or steal, and accept that the consequence for breaking this pledge is permanent dismissal from the University. It is for its aspirational quality, however, that the Honor Code is so cherished: in leading lives of honor, students have continuously renewed that unique spirit of compassion and interconnectedness that has come to be called the Community of Trust.
More information about the Honor System.
More information about the Honor Committee.
Diversity at UVA School of Medicine
The School of Medicine has a strategy of leveraging diversity and inclusion to drive our mission of excellence in the delivery of quality patient care, the conduct of biomedical research, and the training of health professionals.
For students, housestaff, faculty, staff and patients alike, we strive to foster a sense of community that values and takes advantage of our differences and similarities in gender, race, ethnicity, sexual orientation and beyond.