Felder Lab Research Opportunities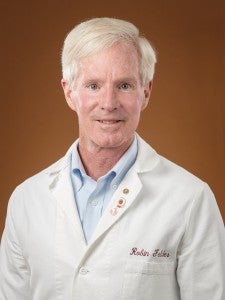 Robin Felder, Ph.D
Professor of Pathology
Associate Director of Clinical Chemistry Laboratory
Director Medical Automation Research Center
rfelder@virginia.edu
Laboratory Interests:
I.  High Blood Pressure (hypertension) and Blood Pressure Sensitivity to Salt
Our research team consists of the Principal Investigator, Dr. Robin A. Felder (Pathology), co-investigator Dr. Robert M. Carey (Endocrinology), and co-investigator Dr. Pedro A. Jose (Pediatrics, Georgetown University, Washington, D.C.) and over 50 M.D.s, Ph.D.s, students and technologists that are studying the interaction between two regulatory pathways (dopamine and the renin angiotensin system) with key roles in kidney function and blood pressure regulation.  Our current program project grant is focused on investigating how the kidney regulates sodium transport and blood pressure through shared and independent molecular, cellular, and physiological pathways.
II.   Medical Automation and Robotics
The Medical Automation Research Center focuses on developing new automation technologies that improve the efficiency, safety and relevance of medical care.
Research Projects (Hypertension and Salt-Sensitivity Program):
Development of genetic and proteomic tests for predicting the early onset of either hypertension, salt sensitivity, or both
Development of a new generation of selective antihypertensive medications
Using systems biology and high content cellular analysis to dissect novel pathways for sodium homeostasis in the body
Purification and crystallization of cellular proteins with therapeutic interest
Research Projects (Medical Automation and Robotics Program):
Engineering an automated platform for human cell and organogenesis production
Development of in home passive sensors for monitoring health and disease
Development of a fully automated genotyping and proteomic system for rapid, reliable, high throughput diagnostics
What you will learn from this rotation:
A general understanding of high blood pressure and salt sensitivity and the molecular mechanisms that lead to this disease
Modern laboratory methods for genomic and proteomic analysis
Basic engineering and programming of a variety of robots
Sensor engineering, digital and analogue signal processing, medical data mining