Liver Transplant Division
About
The Liver Transplant Anesthesia Division provides specialty care to patients undergoing hepatobiliary as well as abdominal transplant surgeries. We aim to provide cutting edge clinical care for these patients, including the use of ERAS protocols, advanced monitoring techniques, continuous cardiac output PACs, and transthoracic & transesophageal echocardiography.
Our division is extensively involved in the education of residents. Several members of the group serve as members of the Residency Leadership Committee. Our faculty lead a biannual liver and coagulation teaching block and offer a liver transplant elective for our CA3 residents, visiting USN residents, and interested residents from other anesthesia residency programs. Please reach out to inquire about ways to rotate with our division.
A Message from the Division Chief
Welcome to the Division of Liver Transplant Anesthesia Web Page. We have a robust clinical practice of hepatobiliary surgery as well as abdominal transplant performing 70-100 livers, 150-200 kidneys, and approximately 20 pancreas transplants per year. We are actively involved in educational endeavors as well as clinical research projects to advance the education of our residents and the care of our patients.
Our Division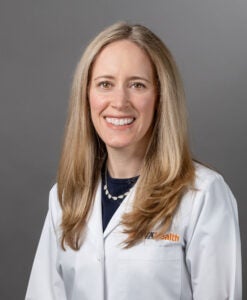 Katherine T. Forkin, MD
Associate Professor, Division Chief
Katherine T. Forkin, MD, Liver Transplant Division Chief
Dr. Forkin is an Associate Professor of Anesthesiology at the University of Virginia. She specializes in the care of patients undergoing liver transplantation.
Dr. Forkin is an Assistant Program Director for the Department of Anesthesiology Residency Program and directs the Foundations of Anesthesia Month course for incoming residents. She serves on the American Society of Anesthesiologists (ASA) Committees for Patient Blood Management, Transplant Anesthesia, and Women Anesthesiologists.
Read Dr. Forkin's Full Bio
Link to Dr. Forkin's Publications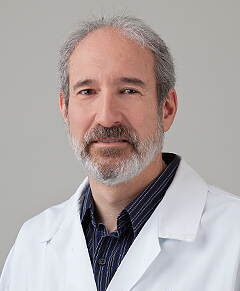 David L Bogdonoff, MD
Associate Professor
David L Bogdonoff, MD
Dr. David Bogdonoff is an Associate Professor of Anesthesiology. He graduated from the Rochester School of Medicine and Dentistry. He then matriculated to the Milton S. Hershey Medical Center of The Pennsylvania State University to complete a residency program in Surgery, where he had the honor of serving as Chief surgical resident his final year of training. Dr. Bogdonoff continued his specialized training with an anesthesiology residency at the University of Virginia.
He is Board certified in both surgery and anesthesiology.
As a lifelong learner he has continued his education through the UVA Health Sciences Leadership Program at the UVA Darden Graduate School of Business Administration and the
Leadership Development for Physicians in Academic Health Centers at the Harvard School of Public Health. He has published widely in the area of surgical and anesthesia peri-operative medicine and has become an expert in OR management.
Dr. Bogdonoff served as the Vice-Chair for Clinical Affairs and as the head of Hepatic Transplantation Anesthesia. He was instrumental in the building and implementing of EPIC Anesthesia for UVA. He currently serves as our EPIC Physician Liaison.
Read Dr. Bogdonoff's Full Bio
Link to Dr. Bogdonoff's Publications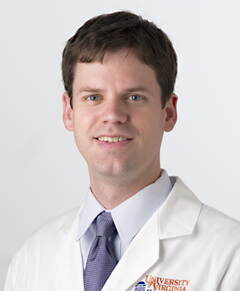 Stephen R Collins, MD
Associate Professor, Residency Program Director
Stephen R Collins, MD
Dr. Collins is an Associate Professor. He was born in Virginia and graduated from The College of William and Mary, and the University of Virginia SOM. He completed an internship at Yale New-Haven Hospital. He finished with an Anesthesiology Residency at UVA with specialty training in liver transplantation.
Dr. Collins is ABMS Certified in Anesthesiology and joined the UVA Faculty in 2010. His anesthesiology practice includes patients for general surgery, vascular surgery, and liver transplantation. At UVA, he is an Associate Director, Anesthesiology Residency.
Dr. Collins was awarded the annual Resident Faculty Teaching Award three times, the GME Master Educator Award, and is a member of the Academy of Distinguished Educators. He is a national board examiner for the American Board of Anesthesiology, and serves on the University of Virginia School of Medicine Admissions Committee.
Dr. Collins and his wife, an endocrinologist, live in Charlottesville with their two daughters. He enjoys his time with his family very much.
Read Dr. Collins' Full Bio
Link to Dr. Collins' Publications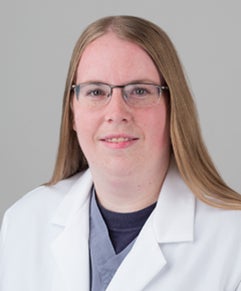 Amanda M. Kleiman, MD
Amanda M. Kleiman, MD
Dr. Kleiman is an Associate Professor of Anesthesiology at the University of Virginia. Her clinical interest/focus centers on caring for patients undergoing cardiothoracic and major vascular surgery as well as liver transplantation. Her research interests include improvement of the care of cardiothoracic surgical patients, echocardiography, and education research focusing on maximizing the quality of resident and medical student education.
Dr. Kleiman has grant funded research examining sleep disturbance following cardiac surgery and its relationship to delirium and dementia. Her particular education research interests include biases in education, the effect of stress, sleep, and wellness on resident training, and novel education/learning techniques. Outside of work, she enjoys being outside with her friends and golden retriever puppy.
Read Dr. Kleiman's Full Bio
Link to Dr. Kleiman's Publications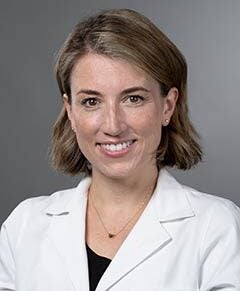 Eryn Thiele, MD
Assistant Professor 
Eryn Thiele, MD
Dr. Thiele completed medical school in Colorado and came to Charlottesville for her anesthesiology residency.  She served as Chief resident her final year of training and emerged as an administrative savant.  She joined our faculty in 2021 as a generalist and is completing a liver and transplant unaccredited fellowship program to hone those very specialized skills.
Dr. Thiele is involved with our FAM (Foundations of Anesthesia) program and has taken a lead role in FAM extended for our interns and new CA1 trainees.   She is active in patient safety and wellness.
Resident Rotation
UVA performs all solid organ transplants except small bowel transplants, and residents get an early and extensive exposure to these complex and exciting cases. Beginning in the CA0 year, residents may participate in a living or deceased donor kidney transplant, of which we perform around 120 procedures per year. During the CA1 year, it is possible to complete liver transplants (70-80/year) which can be some of the most challenging anesthetics to perform due to the massive blood loss, metabolic derangements, arrhythmias, and fluid shifts.
Our CA2 and CA3 residents have more opportunity to participate in liver transplants, including a capstone CA3 liver transplant rotation where they cover all transplants which occur and solidify their management of these difficult cases. Additionally, residents have the opportunity to take care of heart transplant patients (about 30/year) and lung transplant cases (around 30-50/year and growing).
Most of our residents choose an elective transplant rotation during their final year of training.
The Growth of  Our Clinical Volumes
See the chart below.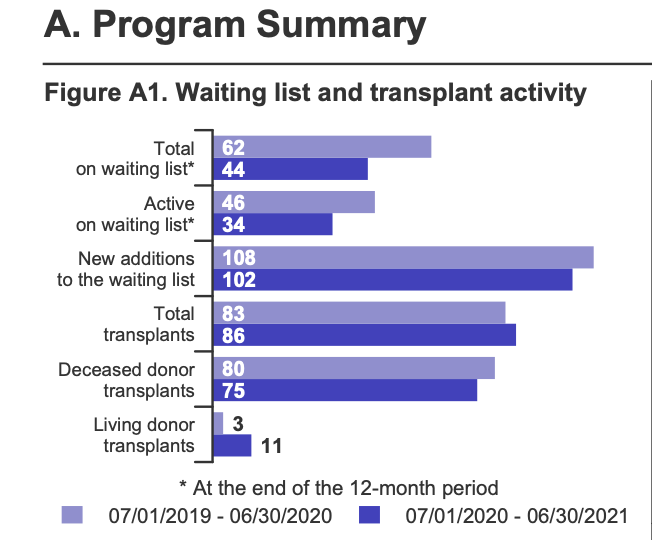 Liver Transplant Anesthesia Research:
Completed enrollment of 40 liver transplant patients evaluating Quantra Q-stat (a new viscoelastic monitoring device) in comparison to results obtained from ROTEM as part of a multicenter trial (Forkin PI)
Published key articles in premier anesthesia journals related to transplant anesthesia as well as other topics
Several Resident Case Presentations at National Meetings (ASA, IARS, liver society meetings)
Effects of CirQPOD Intrathoracic Pressure Regulation on Non-invasive Cardiac Output in Patients Undergoing Hepatic Resection
Utility of Pre-operative Transthoracic Echocardiogram to Predict Day-of-Transplant Right Heart Hemodynamics
Evaluation of the Clinical Performance of the Quantra System with the QStat Cartridge in Trauma and Liver Transplantation
Publications:
Forkin KT, Colquhoun DA, Nemergut EC, Huffmyer JL. "The coagulation profile of end-stage liver disease and considerations for intraoperative management." Anesth Analg. 2018 Jan;126(1):46-61.
Walters SM, Richter EW, Lutzker T, Patel S, Vincent AN, Kleiman AM. "Perioperative Considerations Regarding Sex in Solid Organ Transplantation." Anesthesiol Clin. 2020 Jun;38(2):297-310.
Leaders in state and national societies
American Society of Anesthesiologists: Committee on Transplant Anesthesia
DC/Maryland/Virginia Liver Transplant Anesthesiologists: Annual Meeting Planning Committee
ERAS for Liver Transplantation (ERAS4OLT): Expert Working Group Panel Member, Coagulation & Transfusion
A&A Editorial Board Membership