Diane Pappas, MD, JD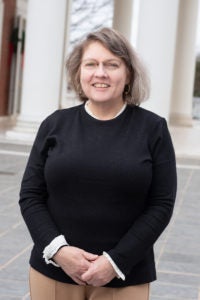 I am a Charlottesville native and received my BS in Biology from the College of William and Mary, followed by a law degree from the University of Virginia School of Law. I then continued my studies at the Medical College of Virginia (skipping an anatomy lab to be sworn in as a member of the Virginia State Bar) where I obtained my MD degree and also completed my pediatric residency.  I returned home to Charlottesville and spent a year in private practice before joining the UVA Department of Pediatrics in 1995.
At the University, I am a general pediatrician serving a disadvantaged population in our rural Pediatrics at Orange clinic. I am particularly interested in effectively utilizing community resources to address the social disadvantages faced by my patients, as well as in assuring that the educational needs of all children, but especially those with special health care needs or learning issues, are met. I enjoy teaching all levels of learners; In addition to GSP, I teach third and fourth year students in my clinic, I teach a fourth year elective annually entitled "The Other Side", and I teach an undergraduate seminar on "The Doctor." As the Director of Child Advocacy, I am responsible for the advocacy training of pediatric residents, which allows me to work closely with our pediatric interns and residents.
When I am not in the clinic, I assist students and residents with community projects, I am an active member of the Virginia Chapter, American Academy of Pediatrics and organize their annual General Assembly Day every January.  As a former member of the American Academy of Pediatrics Committee on Federal Governmental Affairs (COFGA), I have also worked on child health issues at the national level.  I am a member of the Virginia Bar Association Commission on the Needs of Children and a champion for medical-legal partnerships in Virginia.
In my "free" time, I enjoy cooking and traveling with my family.  I love Charlottesville and local history.  I also love to read, hang out with my cat, and Zumba.
GSP brings together all of my pediatric passions, and I am excited about our work together!