Justin Mutter, MD, MSc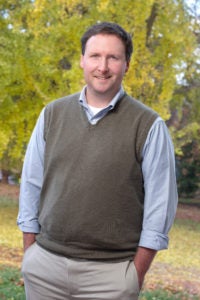 As a former student graduate of the Generalist Scholars Program (GSP), it is a privilege to now be working with GSP as faculty!  UVA and Charlottesville have been my most consistent educational home.  I pursued my undergraduate studies at UVA in English Literature and Religious Studies; and subsequently, developed a background in global public health, working in central Haiti for Partners in Health for two years.  I have a strong interest in the intersection between the medical humanities, public health, and clinical medicine, having completed graduate work in the modern history of medicine at the University of Oxford.
I graduated from the UVA School of Medicine (and GSP) in 2013, and moved to Asheville, North Carolina to complete my residency training in Family Medicine at the Mountain Area Health Education Center. My wife Kathryn, an Assistant Professor in the Department of Emergency Medicine, and I were delighted to move back to Charlottesville to complete my fellowship training in geriatrics and to continue in our faculty roles.
In addition to my work with GSP, I am an Assistant Professor of Geriatric Medicine in the Division of General, Geriatric, Hospital & Palliative Medicine.  Clinically, I serve as a primary care geriatrician and as physician faculty of the Memory and Aging Care Clinic in the UVA Department of Neurology, as well as medical director for Continuum Home Health Care.  In keeping with my passion for the medical humanities, I serve as core faculty for the Programs in Humanities at the Center for Biomedical Ethics and Humanities and precept students and residents regularly in clinical settings.  I enjoy working with multidisciplinary teams and advocating for comprehensive, person-centered care.  My clinical and non-clinical research revolves around these themes and includes studies in primary care health policy, the history of aging in America, and home-based medical care.
My wife and I enjoy spending time with our two children, hiking in the Shenandoah, cheering at UVA soccer games, and sampling the latest food venues in the greater Charlottesville area.