Katherine Jaffe, MD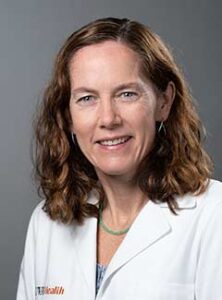 Originally from Charleston, South Carolina, I travelled west to college to earn my BA in Sociology at the University of California, Santa Cruz.  Along the way, I helped to build a school building in rural Kenya; backpacked through Chiapas, Oaxaca, and Mexico City, Mexico; and worked for a women's healthcare advocacy organization, which culminated in meeting then-President Bill Clinton at a Rose Garden bill-signing ceremony. After graduating college, I attended UVA School of Medicine as a Generalist Scholars Program (GSP) student and stayed at UVA for residency in Internal Medicine. For more than twenty years, I have now called UVA and Charlottesville home.
I especially appreciate that UVA has been a great place to cultivate and develop my interest in primary care. I now practice general internal medicine with University Physicians Charlottesville, where I see patients from a wide array of backgrounds—from university professors moving to Charlottesville for the first time to farmers from surrounding rural areas who can trace their roots in the region going back several generations.
I also value the opportunity to mentor students and residents with a goal of promoting careers in preventive care and chronic disease management. In addition to my role as a GSP faculty mentor, I serve as a preceptor to Primary Care Track internal medicine residents.  I also precept residents caring for patients at the Haven medical clinic, which provides healthcare to individuals experiencing homelessness. In addition, I conduct regular primary care workshops with our internal medicine house staff through our Office Based Medicine curriculum.
Outside of my work I can be found hiking at Sugar Hollow with my wonderful family (my husband Cale, 3 not so young children and two energetic dogs), pulling weeds from my garden, jogging around town (and entering the occasional race I learn about from the Ragged Mountain Running Shop), or trying out a new recipe while listening to The World Café on our local independent music station, WNRN.