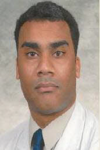 Moonah, Shannon
Primary Appointment
Assistant Professor, Medicine: Infectious Diseases and International Health
Education
Clinical Fellowship, Infectious Diseases, University of Virginia
MD, , University of the West Indies
Research Fellowship, , University of Virginia
Residency, Internal Medicine (Assistant Chief Resident, includes NIH Clinical and Research electives), Howard University
ScM, Molecular Microbiology and Immunology, John Hopkins University
Contact Information
PO Box 801340
345 Crispell Drive, MR-6, Room 2715
Charlottesville, VA 22908
Telephone: 434-243-1230
Email: sm5fe@hscmail.mcc.virginia.edu
Research Disciplines
Infectious Diseases/Biodefense
Research Interests
Host-pathogen interactions; molecular parasitology; mucosal inflammation; immunopathology and repair. Our research interests evolved from studying a parasite that causes inflammation of the gut, similar to IBD.
Research Description
Shannon Moonah MD, ScM, is a physician-scientist in the Division of Infectious Diseases at the University of Virginia (UVA). Dr. Moonah grew up in Jamaica, where he attended medical school at the University of the West Indies. For his residency, Dr. Moonah came to the U.S. to train at Howard University in Washington, D.C, which included clinical and research electives at the National Institutes of Health. Prior to his fellowship, Dr. Moonah completed graduate training in molecular microbiology and immunology at the Johns Hopkins Bloomberg School of Public Health. At UVA, He completed a four-year clinical and research fellowship program in infectious diseases prior to joining the faculty in 2016. His research is supported by the National Institutes of Health and the Robert Wood Johnson Foundation. He has special interests in molecular parasitology, gut inflammation and repair.


Entamoeba histolytica causes inflammation of the colon termed amebic colitis, similar to inflammatory bowel disease (IBD). Our current research projects evolved from our finding that the E. histolytica parasite produces a homolog of the proinflammatory cytokine MIF.

All proteins bind to other proteins/molecules. MIF interacts with the human receptor CD74 and parasite COP9 signalosome subunit 5 (CSN5).

Our research interests are motivated by three complementary projects:
1. Targeting mediators of inflammation-induced tissue destruction: We identified the Entamoeba histolytica homolog of the upstream inflammatory cytokine MIF (EhMIF) as a mediator of parasite-induced mucosal inflammation and immunopathology. We are currently investigating anti-EhMIF antibodies as an antivirulence therapeutic for severe amebic colitis. Ghosh et al. JID 2019

2. COP9 signalosome: we recently found that the parasite-produced multi-subunit COP9 signalosome is an essential regulator of protein turnover. We are exploring how the parasite complex works so we can develop much needed new therapies. PLOS Pathogens 2020

3. Intestinal repair: we are currently investigating the mechanism by which the activation of CD74 (MIF receptor) leads to gut repair. Farr et al. CMGH 2020 (the official basic and translational science journal of AGA)


This work expands our knowledge of mucosal immunology, gut repair, host-parasite interaction, molecular parasitology, and highlights potential treatment targets.
These studies may contribute to a better overall understanding of inflammatory bowel disease (IBD), beyond amebic colitis.
Also, what is learned may be applicable to other parasite pathogens that possess their own MIF and COP9 homologs such as Plasmodium, Toxoplasma, Trypanosoma, and Leishmania.

Selected Publications