Research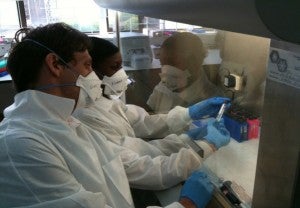 Research programs in UVA's Division of Infectious Diseases & International Health and related disciplines are supported by more than $29 million in extramural funding. Faculty members conduct bench and clinical research of national and international significance, including the development of vaccines, diagnostic tools, and treatments for a variety of infectious diseases.
The division's international and global research partnerships are one of its strengths. UVA faculty work collaboratively with university-based colleagues in many countries, with major partnerships at sites in Bangladesh, Brazil, Haiti, India, Pakistan, South Africa, Tanzania and Uganda.
To learn more about a specific ID faculty member's research, go to the School of Medicine Research Faculty Directory and search by the individual's last name.
Our Division's Research Activities:
Interdisciplinary Research Opportunities:
UVA Institutional Resources: