Foot and Ankle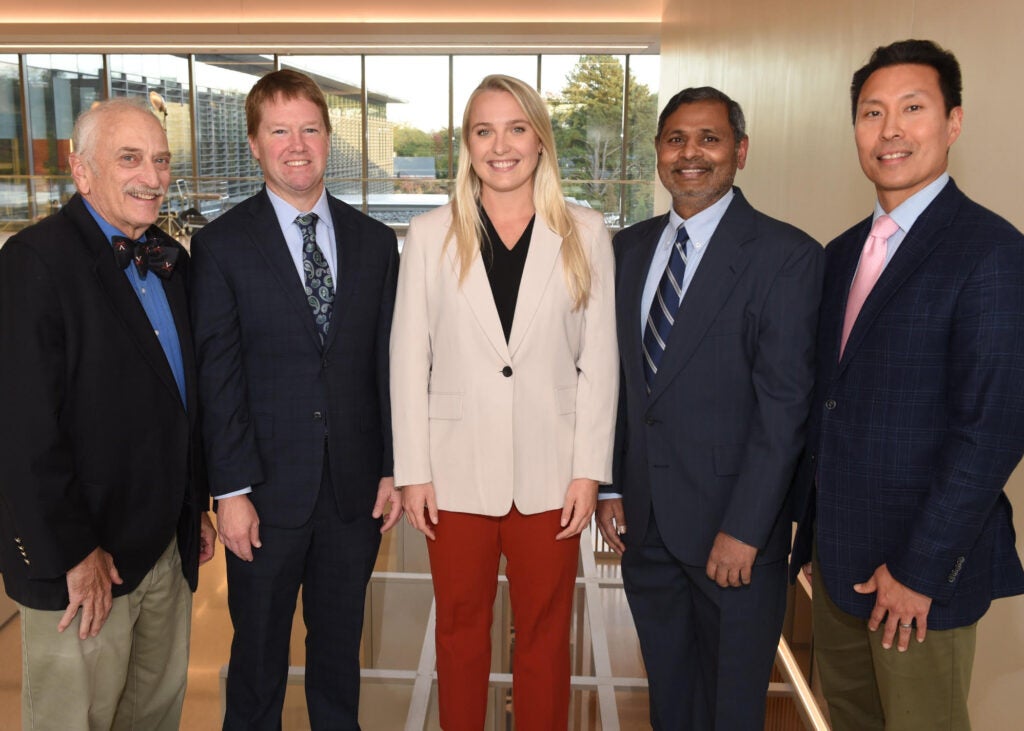 Foot and Ankle
About
The University of Virginia Department of Orthopaedic Surgery is one of only a few centers in the United States with three Foot and Ankle Fellowship trained Orthopaedic Surgeons on faculty. As Orthopaedic Surgeons, we utilize our extensive training and understanding of the entire musculoskeletal system to provide integrated, comprehensive care for a wide spectrum of disorders of the lower extremity. Since arthritis, ligamentous instability, and mal-alignment of the Foot and Ankle can have a significant effect on other joints (knee, hip, spine), the impact on the entire lower extremity must be considered. Whether your problem is relatively simple or extremely complex, it can have a profound negative effect on your desired level of activity and quality of life. ( Click here for more information on the Orthopaedic Distinction)
Given this unique perspective, our team strives to utilize techniques that provide durable, literature-proven correction of Foot and Ankle pathology. We are honored to obtain referrals from other orthopedic surgeons, physicians, podiatrists, physical therapists, and athletic trainers throughout Virginia and beyond. When a musculoskeletal provider has exhausted appropriate non-operative measures, patients are often referred to the University of Virginia for evaluation by one of our Foot and Ankle surgeons or physician assistants. Please ask your trusted health care provider if you may benefit from referral to the UVA Foot and Ankle Team. ( Referral instructions)
Our Team specializes in the treatment of sports injuries, arthritis, tendon dysfunction/ ruptures, flatfoot deformity, adolescent/congenital deformity, fractures/dislocations, diabetic/Charcot deformity, and symptomatic forefoot deformity. By working closely with physical therapists, trainers, and UVA's Prosthetics and Orthotics Department, we are able to offer the most effective non-operative management for these disorders. When surgical intervention is necessary, we utilize advanced techniques including ankle arthroplasty, complex arthrodesis, arthroscopic surgery, allograft ligament/tendon reconstruction, and bone marrow/stem cell augmentation.
As the Orthopaedic Foot and Ankle Surgical Consultants to both the University of Virginia and James Madison University Athletic Departments, our Division is uniquely qualified to treat Foot and Ankle injuries in elite level athletes. This same level of expertise and attention to detail is also used in treating patients of all ages and activity levels.
We are able to provide a multi-disciplinary approach to the care of patients with complex Foot and Ankle pathology due to our close collaborations with the Plastic Surgery, Vascular, Medicine, Infectious Diseases, Prosthetics and Orthotics, Anesthesia, Physical Medicine and Rehabilitation, and Musculoskeletal Radiology Departments at UVA. Our mission is to restore function and improve quality of life through this coordinated approach to the treatment of Foot and Ankle disorders. When considering surgery for your Foot and Ankle, take advantage of the UVA Orthopaedic Foot and Ankle Division's clinical and surgical expertise to maximize your chance of successful outcome.
Further Resources