Abigail Bideaux, M.D.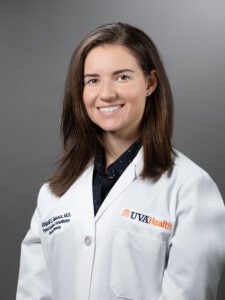 Medical School: SUNY Upstate Medical University
Undergraduate: Cornell University 
Professional interests: Sports medicine, ultrasound guided injections, biomechanics and gait analysis, female athlete nutrition, concussion rehabilitation, medical student/resident education 
Hobbies: I love spending time outdoors running, cycling, hiking and skiing. I also enjoy visiting national parks and am excited to have Shenandoah close by!
Quote: In medical school, I had the good fortune of having a mentor who was a graduate of UVA PM&R. He had nothing but good things to say about the program and the people, which I got to experience for myself during an away rotation as an MS4.