Charlottesville and the University of Virginia
Why Charlottesville?
A Rich Culture
Charlottesville is bordered by the scenic Sky Line Drive, the Shenandoah National Forest, and lies in the heart of horse and wine country. Recreational opportunities are abundant in Albemarle County for persons who enjoy soccer, running, mountain biking, golf, tennis, camping, hiking, fishing, skiing and horseback riding. The city also offers a host of cultural and social opportunities which include University and local performing arts groups, The Virginia Film Festival, renowned lecturers, wine tasting at local area vineyards, and antiquing.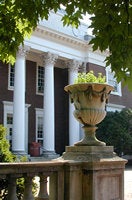 The area is rich with historic sites. Thomas Jefferson founded the University of Virginia in 1819. Mr. Jefferson took great pride in designing the buildings, supervising the construction and planning the curriculum of the University. His famous home, Monticello, sits on a nearby mountain with a view of the beautiful University grounds. Ashlawn-Highland, the home of James Monroe, located near Monticello, features beautiful gardens and furnishings. Within a one to two-hour drive, many other early American historic sites can be seen.
Today, the University of Virginia is ranked the number one state supported university, with nationally recognized programs in the Arts and Sciences, Medicine, Law and Business. Atlantic Coast Conference sports are among the best in the nation. Central Virginia is an area filled with history, and a wealth of recreational and cultural opportunities. Come visit historic Charlottesville and the University of Virginia and enjoy this wealth of educational and cultural resources and outstanding natural beauty.
Nestled in the foothills of the Blue Ridge Mountains in central Virginia, Charlottesville is within an hour drive of Richmond, a two hour drive of the beach, and a two hour plus drive from northern Virginia and the nation's capital. It is truly centered in the heart of everything.
Charlottesville Accolades
Charlottesville has been credited with many achievements and national accolades:
Thrillist's List of: America's Greatest Places You Absolutely Have to Visit During Spring (2020)
Ranked No. 5 on Livability's: Top 100 Places to Live In America (2018)
Travel Channel's List: Top College Towns (2018)
Style Caster's: 10 Best Road Trips in America (2017)
Ranked No. 3 on Southern Living's: Best Small Town in the South (2017)
Ranked No. 5 on The Today Show's: Healthiest, Happiest City in the U.S. (2017)
Travel and Leisure's: America's Favorite Towns (2016)
This is Charlottesville