Program Features
Clinical Experiences
Block Rotation Schedule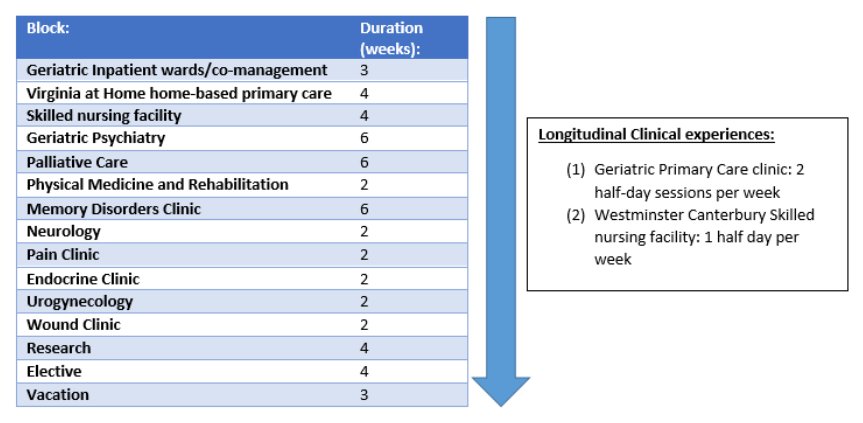 Outpatient Care
Primary care clinics with geriatric-only populations, attended by board-certified geriatricians. The practice consists of preventative medicine, acute care and coordination of subspecialty care for our longitudinal patients. There are currently several such clinics, as described here. Fellows will be placed in one clinic for a longitudinal primary care experience, allowing them to take ownership over their panel of patients for the duration of the year.
Memory Disorders clinic is a subspecialty clinic specializing in neurocognitive disorders which is currently a collaborative effort involving Neurology, Neuropsychology and Geriatric Medicine faculty.
Subspecialty clinics: Neurology, Pain, Endocrine, Wound, among others listed above in the block schedule
Inpatient Care
Consultative Geriatric Medicine experience on the inpatient wards at the University of Virginia Hospital
Consultative Palliative Medicine experience at the University of Virginia Hospital
Consultative Geriatric Psychiatry experience at the University of Virginia Hospital
Evaluation and management of geriatric patients at the University of Virginia Encompass Rehabilitation Hospital, alongside Physical Medicine and Rehabilitation faculty attendings
Residential Facility Care
Skilled nursing facilities with clinical exposure to both long-term care, custodial patients as well as short term, acute rehabilitation patients
Assisted living facilities with clinical exposure to patients with functional and/or cognitive deficits.
Home-Based Primary Care
Didactic Experiences
Journal Club: Occurs twice per month. Two articles are presented, one by a fellow and one by an attending.
Core Geriatric Lectures: Deesigned to cover the breadth of geriatric curricular milestones as outlined by the American Geriatric Society. Lectures are presented by both geriatricians and subspecialists depending on the subject.
Health Systems and Impact on Geriatric Medicine: A mini-series of lectures covering a variety of community geriatric care models, value-based care, and Medicare, among other topics.
Geriatric Medicine Board Review: A mini-series of lectures provided at the end of the year, followed by a practice exam, designed to prepare fellows taking the Geriatric Medicine subspecialty board exam.
Career Advancement
Medical Directorship: A mini-series of lectures designed to introduce the role of Medical Directors and Centers for Medicare and Medicaid regulations pertaining to skilled nursing facilities. Information will also be provided on how to pursue Certification for Medical Directors (CMD).
Clinical and Quality Improvement Research: The program has a 4-week research requirement. Fellows will be paired with a faculty mentor to develop and carry out clinical or quality improvement research.
Medical Education: Fellows have the opportunity to hone their medical education skills by working with University of Virginia residents and medical students. The level of involvement may vary depending on each fellow's interests. There are ample opportunities for fellows to lead workshops and develop new curriculum if desired.
Mentorship: Ultimately our faculty are focused on training physicians to become our future colleagues in the world of clinical and academic geriatrics. To this end, the program provides individualized mentorship to each fellow, taking into account their professional and personal goals.