Scholarship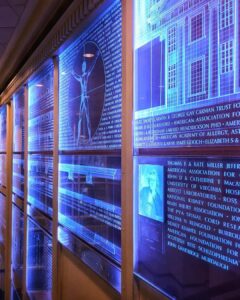 Scholarship can mean many different things and scholarship does not always equate to doing "traditional" scientific research.  In the Generalist Scholars Program (GSP), scholarship is broadly defined and embraces many different forms. Regardless of the form, the purpose of scholarship is to provide a means by which intellectual and creative synthesis or analysis can occur which leads to new knowledge or insights.  The GSP considers the generation of scholarship to be an important aspect of our students' education and as such, GSP students are required to do a scholarship project and present it to the academic community during their fourth year of medical school.  Every GSP student is assisted in the process of generating scholarship by their GSP mentor, the GSP's Scholarship Coordinator, and by being an active participant in the MSSRP during the summer after their first year in medical school.
Potential Scholarship Areas of Study Include:
Conducting original research. This can take the form of traditional, quantitative, scientific methods such as descriptive studies, correlational/relational studies, randomized or non-randomized designs, prospective or retrospective studies), one of many forms of qualitative research, e.g., interviews, analysis of written content, participant observation, action, or some combination of quantitative and qualitative research (the mixed-methods approach).
Joining an on-going research project. One way for students to gain valuable research experience is by joining a currently running research study.  Many of our faculty have research studies and grants and are happy to have students assist them (so long as the program requirements for the research are met).
Performing an in-depth review of a current topic of interest to the primary care community.  This is typically thought of as scholarship of synthesis and could take the form of a literature review, an analysis of public policy or procedure, quality-improvement, or evaluation of a program.
Creating a community educational program related to primary care or engaging in curriculum development related to primary care.