Student Wellness

The UVA School of Medicine provides a wellness-centered learning environment with a focus on caring for your body, mind, and spirit. We focus on wellness both within and outside of the classroom, providing students with learning communities to thrive within the larger classroom setting.
From the time you arrive on campus, you will participate in curricula, programs, and activities designed to help you learn efficiently and effectively, as well as develop self-care techniques to navigate medical school. These wellness focuses skills are critical to resilience and professional development throughout your training and career beyond medical school.
Wellness Initiatives
The University of Virginia School, the School of Medicine, the School of Nursing and the Health System provide a variety of initiatives to ensure students, faculty, and staff maintain a strong culture of wellness. Both student and faculty networks of wellness champions maintain a high level of engagement in developing and delivering curriculum, programs, and activities specifically for medical students.
University wide recreation facilities, Contemplative Sciences Center programs, the Health System Mindfulness Center, and Compassionate Care Initiatives are just some of the available programs to assist students in developing a caring approach to becoming a physician.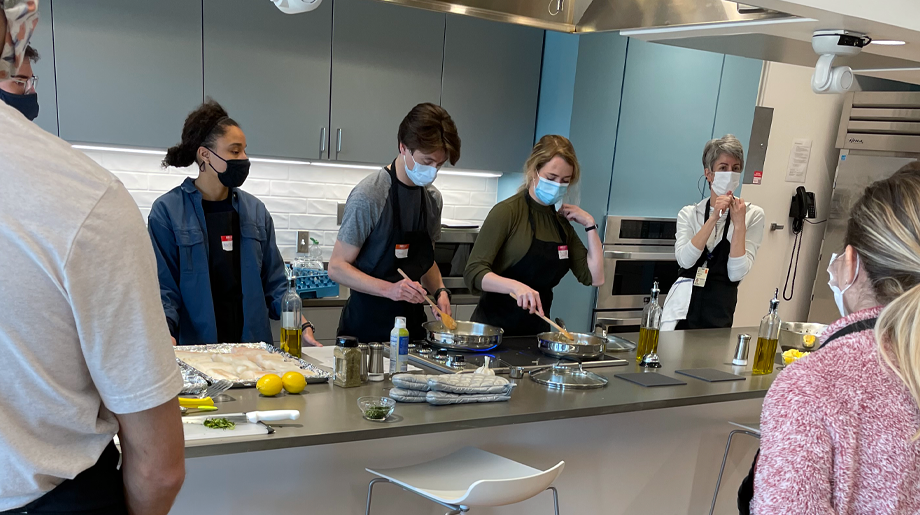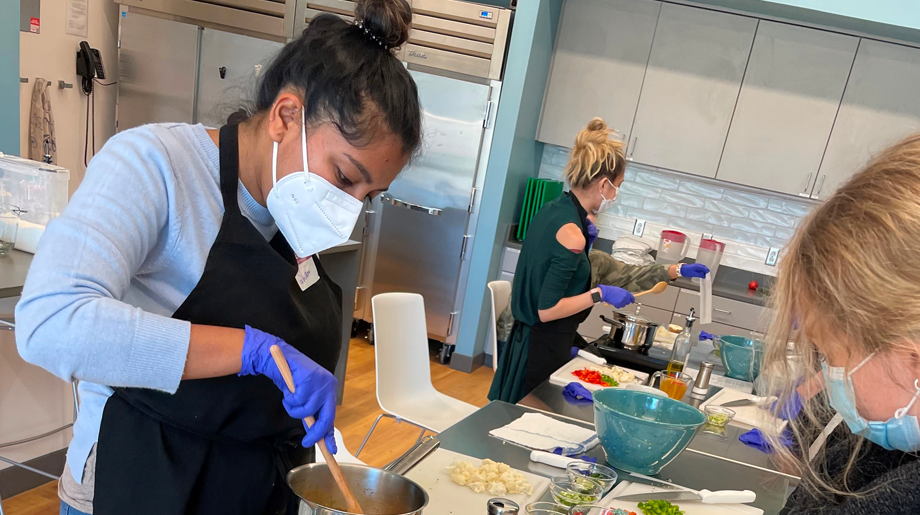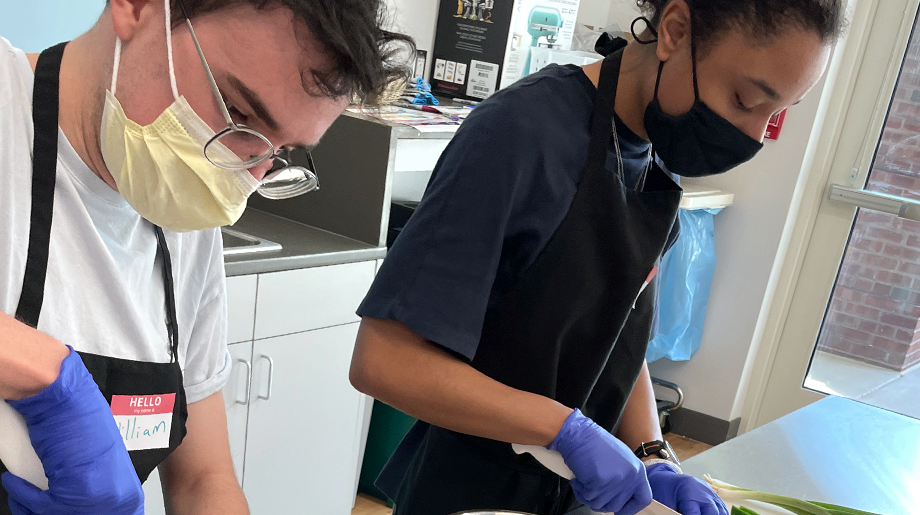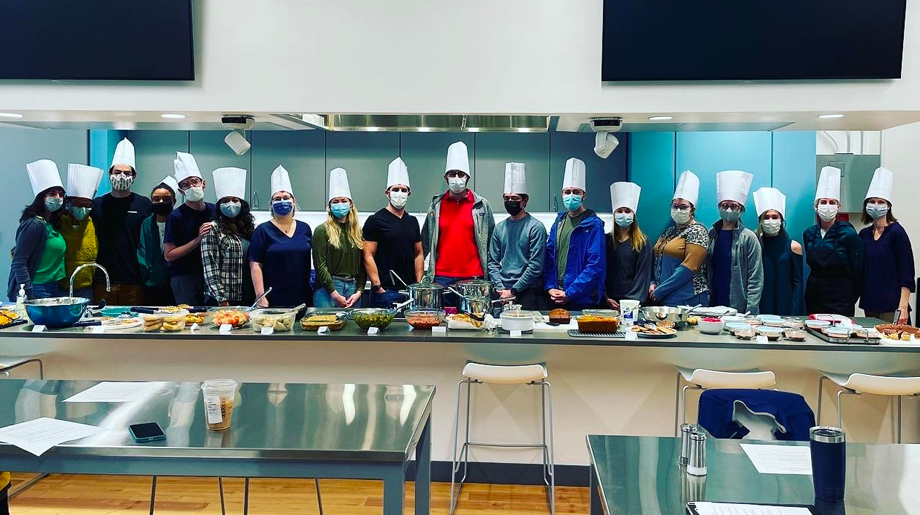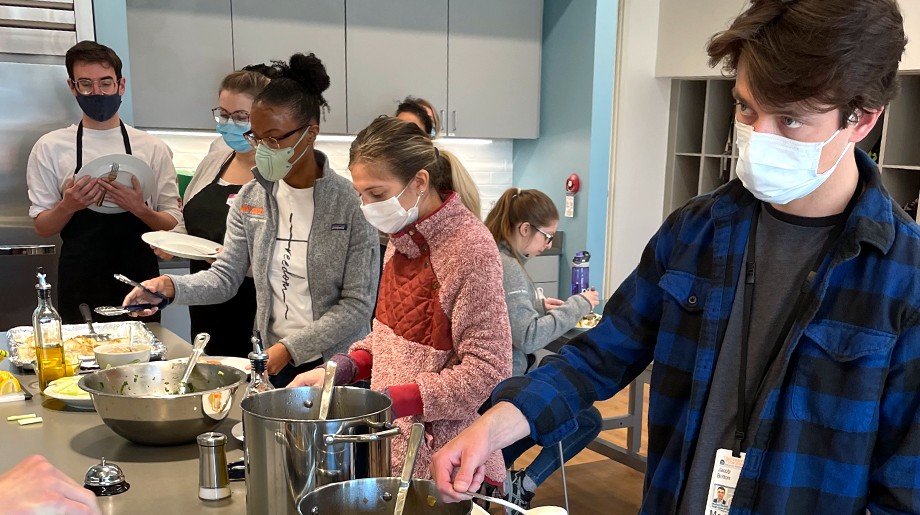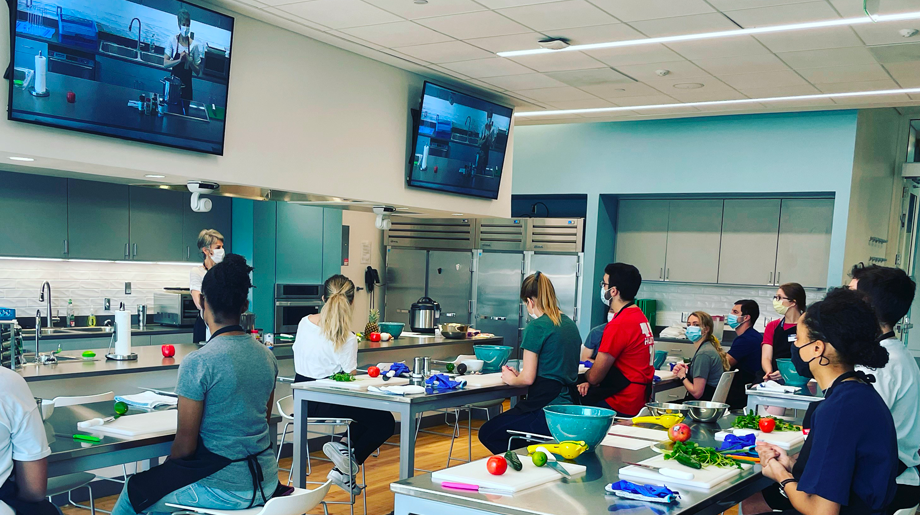 Shown here; Medical students collaborate in Wellness cooking programs to develop healthy eating habits and understanding of foods' importance in wellbeing for themselves and their patients.
Medical students, Student Affairs Deans, and Faculty participate in our first farm-to-table wellness retreat at Morven Farms, near Charlottesville, VA.
VMED Strength - A Gym for Medical Students
UVA medical students working with the UVA SOM Alumni Association proposed and built a student-run gym specifically for UVA medical students' use. The gym offers a wide variety of student-led classes from kickboxing to HIIT.  The gym is well appointed with equipment and its best feature:  peer support with other UVA SOM medical students.
MD Students Yoga Class on The Lawn
Medical students have the option to enjoy monthly yoga classes as a way to build community and find balance in their busy medical school lives.
Wellness Resources
We offer holistic support for medical students that extends beyond the classroom. Our wellness programs feature stress management, nutrition support, personal wellness advising, and physical and mental health programming. By developing methods of self-care to support taking care of yourself, you will be better prepared to serve your patients in the future.
College Deans are available to help support medical students and can offer guidance with important questions.
See contact information on VMed
The Dean on Call is available on: UVA Phone: 924-0000 PIC 1416
UVA's Department of Student Health and Wellness helps students reach their full potential by optimizing their well-being and health during their time at the University of Virginia and beyond.
All UVA students are welcome to contact CAPS (Counseling and Psychological Services) for assistance connecting with mental health support, including emergency services. You can call (434) 243-5150 for support and appointments.