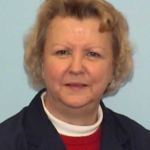 Judy Tharpe
Administrative Assistant
UVA Nephrology
5777 Cube #2 (Old medical school building – suite 5777)
P.O. Box 800133
jet4v@virginia.edu
Tel: (434) 924-5114

Other Duties:
Conference: RGR
Conference: Fellows Conf.
CME Administration
Medical Student Rotation
Procurement Card
Administrative support point of contact for: Emaad Abdel-Rahman, Rasheed Balogun, Charles Brooks, Uta Erdbruegger, Amanda Renaghan, and Rahul Sharma.