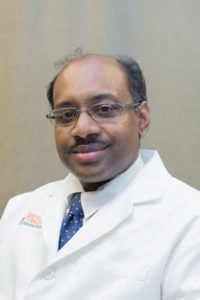 A University of Virginia doctor thinks he could have a cure for a common type of blindness.
Dr. Jayakrishna Ambati, who's the director of the Center for Advanced Vision Science at UVA, is the 2018 David F. Weeks award winner.
It's a prestigious honor for outstanding research in age-related macular degeneration.
He's looked deeply at the root of the cause and says he may have a solution.
Dry macular degeneration causes a person to go blind over a lengthy period of time. But Dr. Ambati has found potential treatments that may stop the illness in its tracks.
"I view it as a testimony to the amazing work that my group has done over the last decade in deciphering the mystery of macular degeneration and what causes it," Dr. Ambati said. "So, our group actually identified the toxic molecules that are present in human eyes with this disease. And we have developed new treatments for this condition."
Clinical trials for these treatments are on the way. Currently, there is no cure for this type of blindness.
http://www.nbc29.com/story/39062525/uva-doctor-states-possible-solution-to-stop-macular-degeneration
Tags: Ambati, macular degeneration, MD, Research, Retina, UVA Ophthalmology, vision loss