Catherine Bonham Lab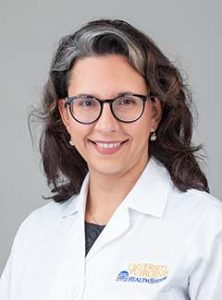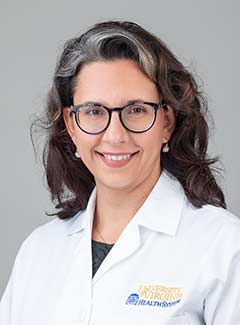 PRIMARY APPOINTMENT:
Assistant Professor
CONTACT:
UVA Division of Pulmonary and Critical Care
PO Box 800546
Charlottesville, VA 22908
Telephone: 434-243-2398
Fax: 434.924.9682
Email: CB6DW@virginia.edu
EDUCATION AND TRAINING:
MD, University of Michigan
Residency, Internal Medicine and Pediatrics, University of Michigan
Fellowship, Pulmonary and Critical Care Medicine, University of Chicago
FUNDED PROJECTS:
K23 HL143135, NIH/NHLBI (T cells in idiopathic pulmonary fibrosis)
Bio Engineering-in-Medicine Seed Grant
GIDI Rapid Response COVID19 Grant
RESEARCH AREAS:
Sarcoidosis
Interstitial Lung Disease
SELECTED PUBLICATIONS:
Huang Y, Oldham JM, Ma SF, Unterman A, Liao SY, Barros AJ, Bonham CA, Kim JS, Vij R, Adegunsoye A, Strek ME, Molyneaux PL, Maher TM, Herazo-Maya JD, Kaminski N, Moore BB, Martinez FJ, Noth I. Blood Transcriptomic Predicts Progression of Pulmonary Fibrosis and Associates Natural Killer Cells. American Journal of Respiratory and Critical Care Medicine. 2021 Mar 9;. doi: 10.1164/rccm.202008-3093OC. [Epub ahead of print] PubMed PMID: 33689671.
Keshavarz B, Wiencek JR, Workman LJ, Straesser MD, Muehling LM, Canderan G, Drago F, Bonham CA, Sturek JM, Ramani C, McNamara CA, Woodfolk JA, Kadl A, Platts-Mills TAE, Wilson JM. Quantitative measurement of IgG to SARS-CoV-2 proteins using ImmunoCAP. medRxiv. 2020 Nov 12;. doi: 10.1101/2020.11.09.20228411. PubMed PMID: 33200147; PubMed Central PMCID: PMC7668760.
Patterson KC*, Bonham CA*, Wilson KC, Crouser ED, Baughman RP, Maier LA. Reply to: PB et al, Fahmin and Roewarne, and Reich. American Journal of Respiratory and Critical Care Medicine. 2020 Nov 1;202(9):1322-1324. doi: 10.1164/rccm.202006-2328LE. PubMed PMID: 32678671; PubMed Central PMCID: PMC7605203. *Co-first authors.
Leonard-Duke JA, Evans S, Hannan, RT, Barker, TH, Bates JHT, Bonham CA, Moore BB, Kirschner, DE, Peirce SM. Multi-scale Models of Lung Fibrosis. Matrix Biology. 2020 Sep;91-92:35-50. doi: 10.1016/j.matbio.2020.04.003. Epub 2020 May 11. PubMed PMID: 32438056; PubMed Central PMCID: PMC7434655.
Crouser ED, Maier LA, Wilson KC, Bonham CA, Morgenthau AS, Patterson KC, Abston E, Bernstein RC, Blankstein R, Chen ES, Culver DA, Drake W, Drent M, Gerke AK, Ghobrial M, Govender P, Hamzeh n, James WE, Judson MA, Kellermeyer L, Knight S, Koth LL, Poletti V, Raman, SV, Tukey M, Westney GE, Baughman RP. Diagnosis and Detection of Sarcoidosis. An Official American Thoracic Society Clinical Practice Guideline. American Journal of Respiratory and Critical Care Medicine. 2020 Apr 15;201(8):e26-e51. PMID:32293205. PMCID: PMC7159433. DOI: 10.1164/rccm.202002-0251ST
Bonham CA, Hrusch CL, Blaine KM, Manns ST, Vij R, Oldham JM, Churpek MM, Strek ME, Noth I, Sperling AI. T cell Co-Stimulatory molecules ICOS and CD28 stratify idiopathic pulmonary fibrosis survival. Respiratory Medicine: X. 2019 Feb 1. PMID: 32455343; PMCID: PMC7243672.
Reyfman PA, Walter JM, Joshi N, Anekalla KR, McQuattie-Pimentel AC, Chiu S, Fernandez R, Akbarpour M, Chen C, Ren Z, Verma R, Bonham CA, Sperling AI, Mutlu GM, Budinger GS, Misharin AV, et. al. Single-Cell Transcriptomic Analysis of Human Lung Provides Insights into the Pathobiology of Pulmonary Fibrosis. American Journal of Respiratory and Critical Care Medicine. 2019 Jun 15;199(12):1517-1536. doi: 10.1164/rccm.201712-2410OC.PMID: 30554520.
Moore PE, Boyer D, Thomas CS, Brown RF, Cogen J, Ong T, Cheng PC, Mayer OH, Krivchenia K, Shell R, Puranik S, Peterson-Carmichael S, Bishay L, Rosen R, Bonham CA, Verhoef PA, Delecaris AO, Ren CL, Poston JT, Dy J, Gross J, Rettig JS, and Horani A. How Pulmonary Physiology Guides Intensive Care Management. American Thoracic Society 2018 Pediatric Core Curriculum. Pediatric Pulmonology. 2019;54:82-98. https://doi.org/10.1002/ppul.24187
Adegunsoye A, Oldham JM, Bonham C, Hrusch C, Nolan P, Klejch W, Bellam S, Mehta U, Thakrar K, Pugashetti JV, Husain AN, Montner SM, Straus CM, Vij R, Sperling AI, Noth I, Strek ME, Chung JH. Prognosticating Outcomes in Interstitial Lung Disease by Mediastinal Lymph Node Assessment: An Observational Cohort Study with Independent Validation. American Journal of Respiratory and Critical Care Medicine. 2018 Sep 14. doi: 10.1164/rccm.201804-0761OC. [Epub ahead of print]. PMID: 30216085.
Duong HT, Bonham CA. Sarcoidosis Associated Pulmonary Hypertension: Pathophysiology, Diagnosis, and Treatment. Clinical Pulmonary Medicine. 2018 March 1. 25(2):52-60. PMCID: PMC6168942. PMID: 30294198
Bonham CA. Biomarkers in sarcoidosis: can miRNA fill the gaps? American Journal of Respiratory Cell and Molecular Biology. 2018 Jan;58(1):1-2. PMID: 29286860.