Getting Started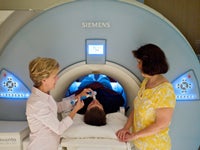 Our aim is to ensure fair and equitable access to the Medical Imaging Research MRI Scanners for all users. These policies apply to all Primary Investigators and their representatives.
Hours of Operation – Normal hours of operation are from 8:00 am to 4:30 pm M-F, however we are happy to provide after-hours access to support our customer's research needs.  To make arrangements, please contact Colleen Speakman @ 434-982-2585.
Time Slots – The minimum time slot is 30 minutes.
Scheduling Your Study – All use of the MRI suite should be scheduled through the online system. See project setup instructions below. The schedule is dynamic and projects are scheduled as requested. To ensure there is time for your project, please reserve the scanner. Scheduled studies take precedence.
Establishing a New Project
Step 1: New Project Setup
Before a project can be scheduled, the study must be created within the online system.
After a study is created in the online system, it will then need to be approved by the MRI Manager and the Imaging Core Director.
After approval, the study can be activated in the online system. To activate a project, the following information must be available:
Approved IRB# or ACUC#
PTAO, if funded
Primary investigator and contact information
Brief description of project
Imaging protocol, if applicable
Step 2: Scheduling
Studies may be scheduled directly through the online system once the new project is established and activated.
*For scheduling related questions please contact Jamie Weathersbee at JG6W@hscmail.mcc.virginia.edu or 434-243-1674, or email RadiologyImagingCore@virginia.edu.
Step 3: MRI Safety Screening Form – Patients and Staff
MRI scanners are essentially magnets that use a very strong magnetic field to create an image. A metal object brought into the MRI scanner room will become magnetized and could potentially become a dangerous projectile.
People with metal implants in their body may not be able to have an MRI scan. Some metal implants could cause problems if subjected to these significantly strong magnetic forces. Anyone who has been injured by bullets or shrapnel, or patients who work with metals, may also not be able to have an MRI scan performed safely.
It is vitally important that anyone who will be in the MRI Exam room (research personnel, patient/volunteer, etc.) complete one of the following screening forms to ensure safety while working in the MRI environment. The form can be emailed in advance to RadiologyImagingCore@virginia.edu, or to Jamie Weathersbee, MRI Research Operations Manager, at jg6w@virginia.edu.