Donna Chen
Donna T. Chen, M.D., M.P.H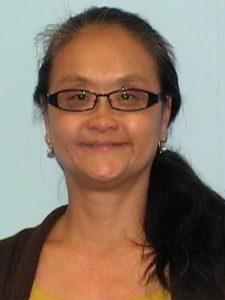 Associate Professor, Department of Public Health Sciences,
Department of Psychiatric Medicine, and Center for Health Humanities and Ethics

After completing her undergraduate education at the University of California, Berkeley where she developed her own major studying "Ethical, Political, and Social Aspect of Health and Medicine," Donna Chen went on to the School of Medicine at the University of California, San Francisco and the School of Public Health at the University of California, Berkeley for her medical education and public health education respectively.  Dr. Chen received her residency training in Psychiatry at Columbia University / New York State Psychiatric Institute, where she served as Chief Resident.  She spent two years with the Southeastern Rural Mental Health Research Center at the University of Virginia , a research center funded by the National Institute of Mental Health to study the mental health service needs of underserved communities, primarily African American, impoverished, and rural communities.  She was also a research fellow with the Institute of Law , Psychiatry and Public Policy and a research associate with the Center for Biomedical Ethics. During this time, she served as Associate Scientific Editor and Scientific Consultant for the Surgeon General's report, Mental Health: Culture, Race, and Ethnicity. Dr. Chen then went to the National Institutes of Health where she received subspecialty training in Consultation-Liaison Psychiatry and completed a postdoctoral fellowship in Research Ethics.
Dr. Chen returned to the University of Virginia in 2003 as an Assistant Professor with the Department of Health Evaluation Sciences and the Department of Psychiatric Medicine and joined the Center for Biomedical Ethics in 2005.   She remains a Special Volunteer with the National Institute of Mental Health.  She has served on several national committees related to clinical and research ethics, including for the National Institute of Mental Health, National Institute of Neurological Diseases and Stroke, National Children's Study, Academy of Psychosomatic Medicine , and the American Psychiatric Association.
Select Articles
Chen, D., Shepherd, L., Muse, E., Johnston, A., "What Medical Students Teach:  The Healing Skill of Being a Team Player," Hastings Center Report 2019; 49(5): 38-47.
Nahata L, Chen D, Moravek MB, Quinn GP, Sutter ME, Taylor JF, Tishelman AC, Gomez-Lobo V. Understudied and under-reported: fertility issues in transgender youth—a narrative review. The Journal of Pediatrics. 2019 Feb 1;205:265-71.
Chen DT*, Ko TM, Allen AA, Bonnie RJ, Suratt CE, Appelbaum PS, Nunes EV, Friedmann PD, Lee JD, Gordon MS, McDonald R, Wilson D, Boney TY, Murphy SM, O'Brien CP. Personal Control Over Decisions to Participate in Research by Persons With Histories of Both Substance Use Disorders and Criminal Justice Supervision. J Empir Res Hum Res Ethics. 2018 Apr;13(2):160-172. doi: 10.1177/1556264618755243.
Chen D, Epstein E, Almarode S, Winter J, Marshall MF. What the "F"? Am J Bioeth. 2018 Jan;18(1):16-19. doi: 10.1080/15265161.2017.1401178. PubMed PMID: 29313770.
Ponce Martinez C, Suratt CE, Chen DT. Cases That Haunt Us: The Rashomon Effect and Moral Distress on the Consult Service. Psychosomatics. 2017 Mar – Apr;58(2):191-196. doi: 10.1016/j.psym.2016.09.008. Epub 2016 Sep 19. PubMed PMID: 27979603.
Chen W, McCollum M, Bradley E, Chen DT*. Shared team leadership training through pre-clerkship team-based learning. Med Educ. 2016 Nov;50(11):1148-1149.doi: 10.1111/medu.13170. PubMed PMID: 27762017.
Lee JD, Friedmann PD, Kinlock TW, Nunes EV, Boney TY, Hoskinson RA Jr, Wilson D, McDonald R, Rotrosen J, Gourevitch MN, Gordon M, Fishman M, Chen DT, Bonnie RJ, Cornish JW, Murphy SM, O'Brien CP. Extended-Release Naltrexone to Prevent Opioid Relapse in Criminal Justice Offenders. N Engl J Med. 2016 Mar 31;374(13):1232-42. doi: 10.1056/NEJMoa1505409. PubMed PMID: 27028913. (primary responsibility for ethics subsections)
McCollum M, Bradley E, Chen D*. Developing a team orientation through team-level reflection and feedback. Med Educ. 2013 Nov;47(11):1136.
Shepherd LL, Read K, Chen DT*. Children Enrolled in Parents' Research: A Uniquely Vulnerable Group in Need of Oversight and Protection. IRB: Ethics & Human Research. 2013;35(3):1-8 [Feature article]
Chen DT*, Shepherd LL, Becker DM. The HPV vaccine and parental consent. Virtual Mentor: American Medical Association Journal of Ethics. 2012; 14(1):5-12.